20,000 Strong National Women's Empowerment Rally
Tuesday, March 4th, 2014
The month of March in Belize is celebrated annually as National Women's Month; as a result, the Special Envoy Office, in collaboration with the NWC, is staging the 20,000 Strong National Women's Empowerment Rally on Thursday, March 6, 2014 starting at 10AM at the Marion Jones Stadium in Belize City.
The aim of this first-of-its kind event is to demonstrate the power, influence and significance of women by showing the Belizean society a day without women. This rally will serve as a platform for a collective approach at finding solutions to the issues that affect the lives of women. We are, therefore, inviting all women, from as near as Belize City to as far as the Toledo District to take the day off from work as a means of celebrating their collective strength and participate in the rally en masse.
Women from the districts and surrounding villages will journey by buses and boats while Belize City women will march from Central American Boulevard to the Marion Jones Stadium where all women will descend for a rally featuring dynamic speakers with women's rights messages. On March 6th, we are asking all women to wear something orange. This vibrant colour brings together every woman under the banner of the UNITE Campaign to end violence against women and girls. Our empowerment efforts will continue from that event into various nationwide activities, all designed to motivate and empower our women.
It is against this backdrop that we are asking you to support our effort to show women their limitless potential and signal your own commitment to women's empowerment by allowing your female employees to come out to the rally on March 6th.
We're in – are you?
/s/ The 20,000 Strong Steering Committee
& the Special Envoy for Women and Children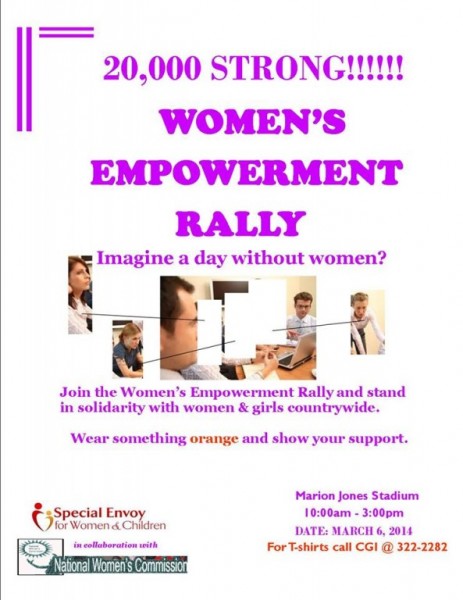 Follow The San Pedro Sun News on Twitter, become a fan on Facebook. Stay updated via RSS