Belize observes IDAHOT 2014
Tuesday, May 20th, 2014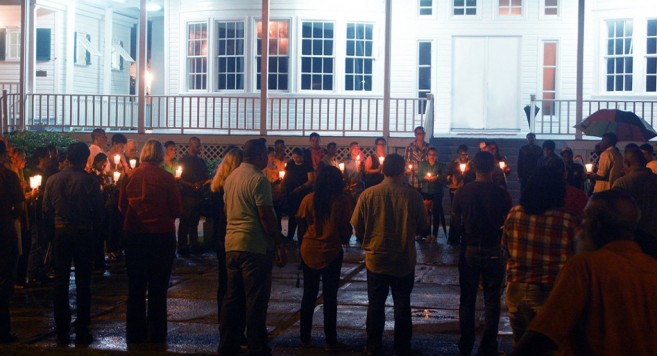 On the 17th of May 2014, Belize's LGBT community celebrated The International Day Against Homophobia and Transphobia (IDAHOT) along with the rest of the world. More than one hundred and fifty LGBT individuals and their allies gathered at the House of Culture in Belize City, including Chargé d'Affaires Margaret Hawthorne from the USA embassy and Deputy British High Commissioner, Grace Chun. The event opened with prayers, offered by Rev. Karen Turner, who deputised for Bishop Phillip Wright, in remembrance of those who have been lost in the struggle, either as the victims of violence perpetrated because of their gender or sexual orientation or because of stigma and ignorance of HIV/AIDS.
Opening the event was a deeply heartfelt video message of support from Kim Simplis, Special Envoy for Women and Children, who, for the second year running has made her views clear about the need to embrace kindness and end bullying and discrimination against the LGBT community in Belize.
Kim Simplis Barrow Address May17 2014 from Seifuddin Munoz on Vimeo.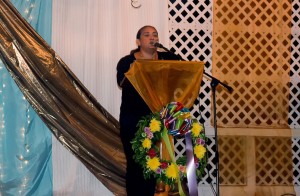 The very positive spirit of the evening continued when over a dozen speakers from around the country made statements of hope for the future of Belize, one where children would not have to live or die in fear because of who they are or who they love. Senator Lisa Shoman, human rights defender, remembered when she stood at the same location in 1981 to celebrate the independence of Belize and her feelings of elation, but as the years went by she realised that not all Belizeans were truly free and that it was time for that to change so that LGBT people can enjoy the same freedoms and rights that independence promised all Belizeans, without discrimination.
Memorable statements of the evening included Mia Quetzal, who said, "The reality is that transgender persons are frightened to do daily activities, such as: walk to a store, take public transportation or even visit other areas of the country. Most trans persons are unable to access public health services, obtain an education, partake in public activities or lead an optimistic way of life and enjoy a love life."
Chargé d'Affaires Margaret Hawthorne said, "Diversity is one of the most striking and defining aspects of Belizean society. However, and unfortunately, during my tenure in Belize I also learned that tolerance is not always extended to all Belizeans and not all Belizeans are free to live as they choose. On this day, we acknowledge and remember the incidents of discrimination and acts of violence towards members of the LGBT community and their allies around the world. Despite these dire situations, the implementation of the International Day Against Homophobia should not rest only on a "victimisation" philosophy, but should also be seen as a great opportunity to highlight positive aspects of homosexuality and celebrate the contribution of lesbians and gays to the rich diversity and accomplishments of Belizean society."
Guadalupe Huitron, of PASMO said, "I'll never forget the first time someone told me that it was illegal to be gay in Belize. The first time I sat with someone as he cried because others insulted the gender of his significant other. The first time my friends and colleagues reported that their lives were being threatened because of who they loved. The pain I have seen first-hand and the discrimination against those I care about and respect reminds me that hate, regardless of who it is directed towards, is simple not acceptable. "
During the event, a video of an anthem, created by LGBT people in Belize, was launched. Below is 'Love Conquers Hate':
The uplifting and celebratory evening was rounded off with a symbolic gathering of attendees, exchanging gifts of flowers and lighting candles.
IDAHOT was created in 2004 to draw the attention of policy makers, opinion leaders, social movements, the media, and the public in general to these issues, and to promote a world of tolerance, respect and freedom regardless of people's sexual orientations or gender identities.
As much as the event on May 17th was against violence and oppression, it is also a day to promote freedom, diversity and acceptance. The date of May 17th was chosen as an international marker to commemorate the decision taken by the World Health organisation in 1990 to take homosexuality out of the list of mental disorders.
The entire event was sponsored and supported by Belizean individuals, businesses and organisations such as Heineken/KMH, Travellers Liquor, D's Creations and PASMO all of whom are united in the belief that the time is now for hatred, intolerance, bullying and violence to end.
The event was organised by a committed group of LGBT people in Belize, who formed the IDAHOT 2014 Belize Committee. Committee member Paul Schmidt said "We were delighted and somewhat stunned by the outpouring of support in the community, which enabled this event to be successful, enjoyable and safe for all attendees. We hope that events like this will help young LGBT Belizeans and their loved ones to feel supported and not alone. Belize is one of many countries that continues to permit discrimination against LGBT individuals both legally and societally, through stigma and sadly, often through intimidation and violence. This has had tragic results with individuals and families across the country living in fear or bereavement, having suffered the loss of loved ones unnecessarily. This stigma affects parents, siblings, children and communities. This event allowed Belizean LGBT people and their allies stand united for change."
Follow The San Pedro Sun News on Twitter, become a fan on Facebook. Stay updated via RSS