Injunction served on Tropic Air's $10 million expansion project; GOB erroneously grants a second title to a portion of Tropic Air land lease
Thursday, June 19th, 2014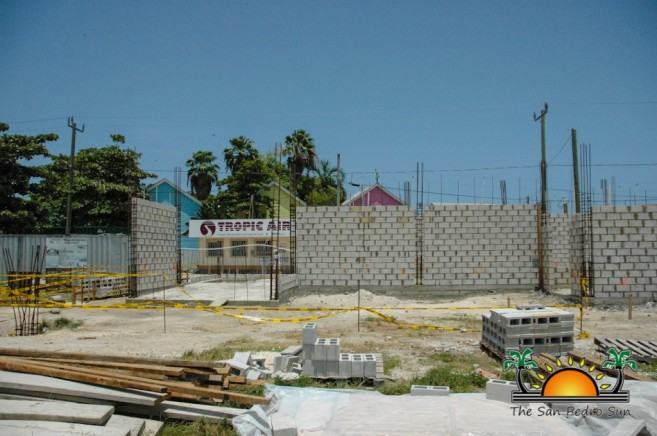 The work on a new $10 million maintenance facility constructed by Tropic Air Limited on Ambergris Caye came to a sudden halt after Tropic was served with an injunction order. The injunction stems from a claim being made regarding approximately one-quarter of the property on which the facility is being built on. Tropic Air Limited has been in possession of a lease title of the entire property in question since 2008, but in April of 2014, Construction Depot Limited, owned by the Feinstein family in Belize City, were granted ownership to a portion of the same property by the Government of Belize.
The property in question is a portion of parcel number 5621 in the San Pedro Registration Area, measuring approximately 300 feet by 77 feet, that has been registered to Tropic Air Limited at both the Lands Department and the San Pedro Town Council. But Construction Depot Limited, a company owned by Sean and Brett Feinstein, has obtained ownership to a property measuring 100 feet by 100 that the Feinstein's claim is where a portion of Tropic Air's new facility is being erected.
According to Steve Schulte, Chief Executive Officer of Tropic Air Limited, on Thursday June 12th, the injunction was served on part of the construction at Tropic Air and has since been cordoned off with yellow tape by order of the court. The suit was filed by Construction Depot Limited, but by Friday, June 13th, Tropic Air Limited filed a counter suit since they also have documents showing ownership since 2008.
"Their suit alleges that they own 100 by 100 feet of the property that we have been building a maintenance facility on, and they asked for an injunction against continuous construction. We have had a lease on that property since 2008 and we have been occupying that property since 2008 with a cargo facility with a part-storage warehouse. We have poured parking slab measuring 150 feet by 40 feet on a portion of it. As far as we could determine from the Government of Belize, we had a clear and fulfilled lease on the property, and in December we started construction on the building," said Schulte.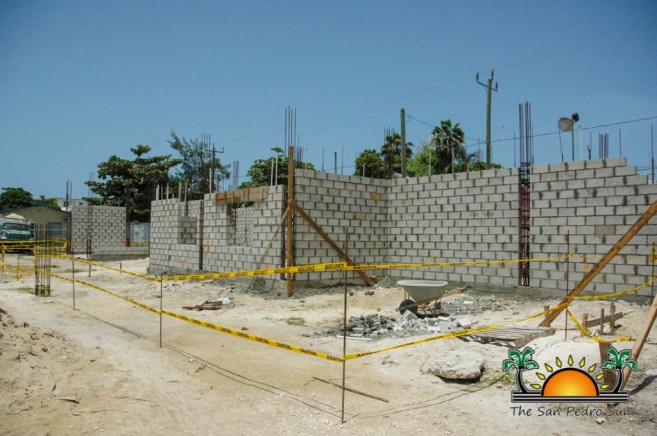 According to Schulte, the Feinstein's simultaneously obtained permission to survey and title a portion of Tropic Air's lease in April 2014. The title was issued on April 15th, and since then, Tropic Air has been (verbally) told to stop construction. "In an effort to adjust the entrance to the airport, we discovered that there was an interest by a construction depot on our actual property and not on the lot next to us which we understood they had title to. Since then the matter has escalated to them serving an injunction against us… Up until April 15th, it was clear to us that that we had an unencumbered lease. I don't think they (Feinstein's) recognize that, but that was the understanding we had from the government," explained Schulte. He furthered stated that in 2013, they applied and were granted permission to survey, and also obtained lease certificate to an additional portion of property. Up until then, the records at the Lands Department showed Tropic Air Limited as sole lease title holder to lot number 5621 for seven years with an extension granted for up to 30 years.
Tropic Air's CEO also said that in March of 2014, he attended a meeting with the Deputy Prime Minister Gaspar Vega, after Construction Depot Limited claimed that the airline company was trespassing on Feinstein's property. "From our surveys we knew that Construction Depot Limited owned the property next to us…. After the meeting in March, we also left with the clear understanding that the property that we were shown at the meeting was the one next to us." The property next to the one Tropic Air has title to, is parcel number 5511. According to property tax records at the San Pedro Town Council, lot number 5511 is owned by Construction Depot Limited who has been current with municipal taxes.
According to Schulte, when the dispute came to light, the government agreed that a mistake has been made and they were willing to work out a rectification. "They had agreed to the mistake made and they could work out a rectification of the mistake if there was a slight adjustment in the eastern angle of the boundaries to our land and we were agreeable to that term. We understood from that time, that the matter had been settled and we were surprised that Construction Depot Limited insisted in stopping our building project."
The claim of ownership by Construction Depot Limited is for a quarter of parcel 5621, which is about one-third of the total construction that is in process. The $10 million investment has been in the pipeline for Tropic Air since 2006 and according to Schulte, the maintenance facility is necessary since their company continues to grow annually. Now, not only are over 75 people displaced from their construction job because of the injunction, but the loss to the company and the tourism sector can be in the millions if the construction is stopped completely.
If completed the expansion to Tropic Air will create between 50 to 100 new highly skilled jobs for Belizeans. "If somehow our lease is cancelled, we have over $1 million invested already in construction, but the entire project would be in jeopardy because the portion that is in dispute is integral to the company. If our project is cut it would not cater to our expansion needs. With a fleet of 15 airplanes going into the next tourism season, we require the ability to service five airplanes under shelter so that the elements of the weather cannot stop us. The economic impact would add up to the millions in tourism dollars and in revenue lost and so it can seriously hurt Belize. Stopping our project is like putting a cap over tourism in Belize."
Tropic Air Limited is the pioneer of the local airline industry in Belize. In 2013, Tropic Air Limited reported that they transported over 300,000 thousand passengers and in 2014, it is expected that those numbers will increase.
The matter is expected to be heard before the Supreme Court on Wednesday June 25th. The San Pedro Sun tried to contact both Sean and Brett Feinstein, but our calls requesting an interview were not returned.
Follow The San Pedro Sun News on Twitter, become a fan on Facebook. Stay updated via RSS