Santiago Tun honored as Officer of the Month for September
Tuesday, October 7th, 2014
The Officer of the Month award for September was awarded to Police Constable (PC) 677 Santiago Tun. A small ceremony to commemorate the award was held for PC Tun on Thursday, October 2nd. As part of his recognition, he received several gifts, as well as a plaque displaying his photo placed at the San Pedro Police Station.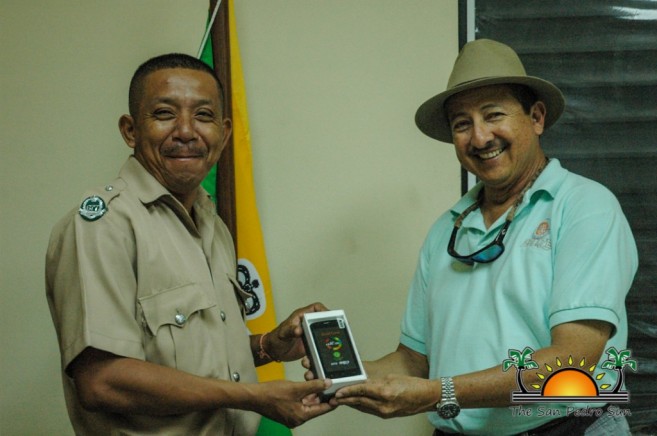 PC Tun was honored due to his high level of professionalism, as well as his ability to attend to customers who can only speak in Spanish. "PC Tun is one of the few officers that is fluent in recording statements and tending to visitors that only speak/comprehend Spanish. This sometimes pose a challenge to the station as many residents of San Pedro are Spanish speaking. PC Tun is also very hard working, professional and dependable. He has never once complained about working overtime or being called off schedule," said Deputy of the San Pedro Police Department, Inspector Henry Jemmott. For the month of September, it was noted that PC Tun was consistent and timely with his case files. He also ensured that all necessary investigations needed to complete his cases were carried out.

For his hard work and dedication in the police department, PC Tun received a watch courtesy of Carol Griesemer, $100 cash courtesy of Nick and Debbie Barton and an android cellular phone courtesy of the San Pedro Town Council. "I have been on the island for about a year and 10 months. I always try to do my best at work. I like helping others. I would like to thank my superiors, my family and most importantly God for this opportunity. I would like to encourage my colleagues to strive to do their best so that together we can improve the San Pedro Police Station," said PC Tun.
Also present at the award ceremony was Mayor Daniel Guerrero who commented on the importance of making the police officer feel appreciated by the community.
Follow The San Pedro Sun News on Twitter, become a fan on Facebook. Stay updated via RSS