Tropic Air presents new livery
Sunday, August 2nd, 2015
Press Release
San Pedro, Ambergris Caye, Belize, July 30, 2015
Tropic Air has today unveiled a modern new look to its iconic brand livery. The new design which will be applied to all of the company's aircraft was today showcased on a Cessna Caravan V3-HHW.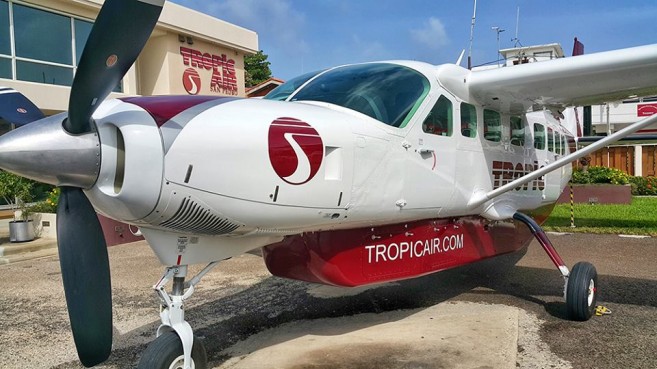 Commenting on the new livery, John Greif III, President of Tropic said: "We're a dynamic and innovative Belizean company. We have so many exciting changes happening, that we thought the time had come for a new visual expression of who we are. An expression that joins our past to our present, and sets the course for where we're headed in the future."
"Despite challenging economic conditions, this is just one of many improvement projects that Tropic Air is investing in" says Greif. "We are investing in terminals, aircraft, infrastructure and staff every day…many of which the customer never notices. In August, we will be opening a $10 million dollar state-of-the-art maintenance facility" he went on to say.
Steve Schulte, CEO, commented "We've tried hard to retain the essential elements of Tropic's almost forty years of service and refine them for the future. We've adapted the 'tail fin' to make it bolder and to reflect a simpler and more elegant shape…The job wasn't to change who we are," said Schulte, "We already know who we are. The job was to keep the elements of Tropic that our employees and customers love, and to make them a bold, modern expression of our future."
The painting process has been simplified, using fewer markings and less paint for a drastic reduction in materials used. The new paint is also more durable so aircraft will require re-painting less often. The iconic, Tropic logo that appears on all aircraft has been rejuvenated with a subtle makeover and detailing.
Aircraft will receive the newly painted livery within the aircraft's existing repainting schedule, with new aircraft delivered in the new livery.
Follow The San Pedro Sun News on Twitter, become a fan on Facebook. Stay updated via RSS