TEDx Belmopan: Changing the Conversation
Thursday, October 8th, 2015
Technology, Entertainment and Design – TED – began in 1984 as a conference where those three ideas merged into powerful conversation. Over the years since, the topics have become varied, and TED Talks are held in more than 100 languages. Belize held its very first TED Talk on October 1st via TEDx Belmopan, an independently run event that helps to bring the conversation to communities worldwide.
Hosted under the theme 'Changing the Conversation', TEDx Belmopan's main goal was to prompt discussions on Belize issues, and also the world. A powerful panel of speakers certainly inspired attendees to keep the conversation going long after the final words were shared on stage. Yasser Musa, Janelle Chanona, Tony Rath, Lisa Shoman and Khalila Enriquez sparked ideas and spoke on subjects ranging from art to journalism, feminism and photography.

The San Pedro Sun was able to catch the presentations of three speakers: Kalilah Enriquez, Tony Rath and Lisa Shoman. Each speaker brought a unique voice to the conversation, and those in attendance certainly left with new ideas and an appreciation for the work they do.
Kalilah Enriquez is a journalist, originally from Belmopan, now living and working in Kingston, Jamaica. Her love of writing led her to a career that has brought excitement and fulfillment to her life. Enriquez spoke of the media in Belize, and her recommendations to add to the rich language of the news. "Seek first to understand, then to be understood." She called on Belize's journalists to respect their viewers/readers/listeners by setting high standards, elevating the discourse and educating them, with full disclosure.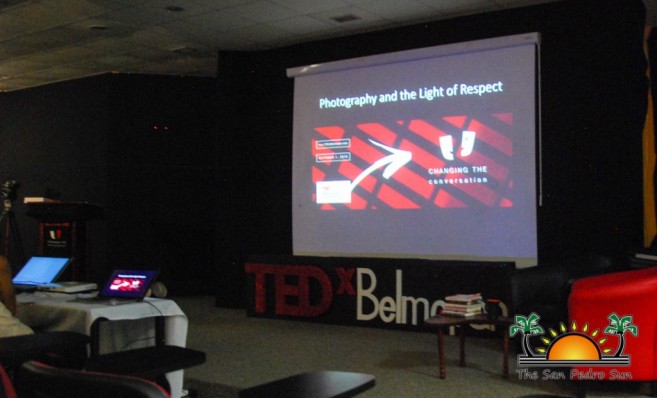 Tony Rath is one of Belize's most prolific photographers. Through his lens, he has captured incredible Belize vistas both above and under water. Titled "Photography and the Light of Respect", Rath presented his works as a lesson…a lesson in light, travel, photography, art…life. As a slideshow of his photographs played in the background, Tony told stories of his adventures, and the lessons he learned along the way. Tony presented in such an interactive way that the audience was able to experience the sound of his adventures – he played the sound of the Slate Colored Solitaire he encountered in the Chiquibul forest of Belize! A mesmerized audience felt his words envelop them, and for one brief moment, we were all experiencing Chiquibul with him. The lessons and words of wisdom that he imparted included learning to respect and value tradition, shedding light on struggles to bring about greater understanding, and an appreciation for team work. "Wild places are not a luxury, they are our identity." As a champion for the efforts of the Friends for Conservation and Development (FCD) team, and their incredibly arduous task of patrolling our forests, Rath has taken the lessons learned throughout the years scaling cliffs, diving the deep and interacting with the local culture to shed a different kind of light on Belize. He asks that we do the same…with respect.

The final speaker of the day was Lisa Shoman, lawyer, feminist, and self-described "Bembe Gyal" (outspoken). Shoman is certainly loud and proud, and she took the opportunity to speak Women and Leadership. She urged listeners to challenge the status quo, to stop thinking of male leadership as the 'default setting'. A startling fact she noted was that Belize ranks last in the Western Hemisphere when it comes to representation of women in political office. To learn that Belize ranks lower than some Islamic countries raised some eyebrows, and with that opening, Shoman delved into the challenges that face women in Belize.
She described herself as a "militant feminist…once determined to WREST power from men…back in the day…but now, she is a militant feminist determined to convince men to SHARE that power." She spoke of power, of dominance and submission, and the roles that men and women play in changing that dynamic. She called on the audience to challenge the culture of 'Just soh ie goh'. She said, "Stop defining by gender. Stop diminishing each other…See humanity, dignity and worth in each other. Stop. Think. Change. East to say; hard to do."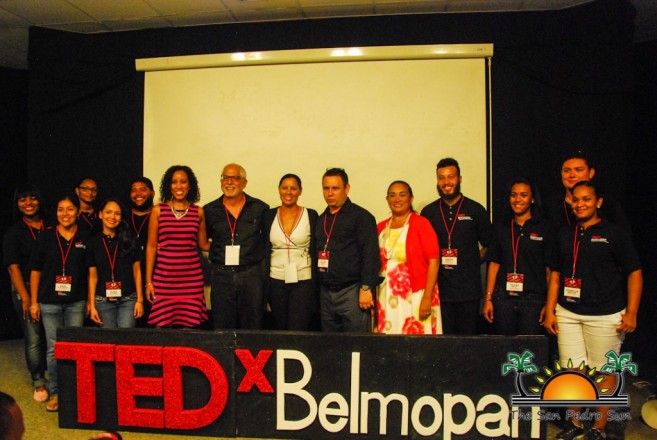 The applause was rousing for each speaker, as the words they spoke found their mark, and found willing ears. TEDx Belmopan brought the conversation forward, and now it is up to the audience to continue talking; to continue to challenge each other and to spread knowledge and ideas and create a better community of thinkers, speakers and doers.

Videos and photographs of the event held at Belmopan will be uploaded at www.tedxbelmopan.com or facebook.com/tedxbelmopan. TEDx Belmopan's leadership team is comprised of Jeanelle Mencias (Licensee and Curator), Justine Nicholas (Organizer and Curator), Anna Stoyshich, Verlie Lamb, Deidra Deandra, Jason Badillo, Diana Zetina, Nicholas Smith and Miriam Longsworth.
About TEDx, x = independently organized event
In the spirit of ideas worth spreading, TEDx is a program of local, self-organized events that bring people together to share a TED-like experience. At a TEDx event, TED Talks video and live speakers combine to spark deep discussion and connection. These local, self-organized events are branded TEDx, where x = independently organized TED event. The TED Conference provides general guidance for the TEDx program, but individual TEDx events are self-organized. (Subject to certain rules and regulations.)

About TED
TED is a nonprofit organization devoted to Ideas Worth Spreading, usually in the form of short, powerful talks (18 minutes or fewer) delivered by today's leading thinkers and doers. Many of these talks are given at TED's annual conference in Vancouver, British Columbia, and made available, free, on TED.com. TED speakers have included Bill Gates, Jane Goodall, Elizabeth Gilbert, Sir Richard Branson, Nandan Nilekani, Philippe Starck, Ngozi Okonjo-Iweala, Sal Khan and Daniel Kahneman.
TED's open and free initiatives for spreading ideas include TED.com, where new TED Talk videos are posted daily; the Open Translation Project, which provides subtitles and interactive transcripts as well as translations from thousands of volunteers worldwide; the educational initiative TED-Ed; the annual million-dollar TED Prize, which funds exceptional individuals with a "wish," or idea, to create change in the world; TEDx, which provides licenses to thousands of individuals and groups who host local, self-organized TED-style events around the world; and the TED Fellows program, which selects innovators from around the globe to amplify the impact of their remarkable projects and activities.
Follow TED on Twitter at http://twitter.com/TEDTalks, on Facebook at http://www.facebook.com/TED or Instagram at https://instagram.com/ted.
Follow The San Pedro Sun News on Twitter, become a fan on Facebook. Stay updated via RSS