Remembering Clifton B. Arthurs
Sunday, July 10th, 2016
by
Thérèse Belisle Nweke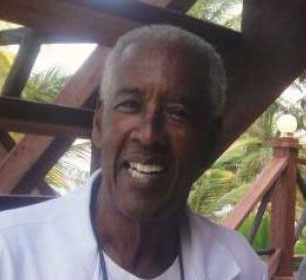 After learning in early May that Cliff had fallen ill in his San Pedro, Ambergris Caye home, and after a stint in hospital in Belize had to be hospitalized eventually in Phoenix, Arizona, I assumed that the fighter in him somehow would weather it all, and he would still be here today. I was wrong. On 28th June, 2016, Cliff transited to a higher plane. And, his caring and loving wife, Joanne, his friends in San Pedro and Belize City, his relatives and friends in Fountain Hills, Arizona; Houston; Wheaton, Illinois; and New York will sorely miss his great smile, infectious bonhomie and genuinely good company.
Clifton B. Arthurs was a Victoria St, Northside, Belize City native. He left Belize, then British Honduras, in the 1950s for the US, lived and worked in Wheaton, Illinois, for many years, and retired to San Pedro, Belize, in the 1990s. "Mr. Cliff", as I knew him as a child, was one of the few, if not the only Creole owner of a truly magnificent estate in Belize. He was loved and respected by most everyone in San Pedro; and because of this and his gracious mien, his sister-in-law, Mrs. Muriel Laing Arthurs, fondly rechristened him "Mayor". At a time when a number of Diasporan Belizeans assume that Belize is either too dangerous and challenging, or too "up in the air", to permanently return to, thanks to the Guatemalan Sword of Damocles and the general idiocy surrounding the various permutations on this issue, it is truly heartwarming when former Diasporans like Cliff return to the land of their birth and make a success of living there.
But Cliff Arthurs was able to survive and succeed, whether he was in America or back in Belize, because, as his wife, Mrs. Joanne Arthurs, explains: "From the least important to the most important, whether poor or wealthy, Cliff treated them all the same . . . with dignity and respect . . . that is why he is so loved by most everyone he met and the many residents of San Pedro. He did not like to be used or abused and so he lived by the words: 'Do unto others as you would have them do unto you'. He held on to these principles all through his life". So, Mr. Cliff, a Belize City "buoy" became on retirement a well integrated San Pedro resident, a great fisherman, and a person who touched the lives of many by just being the sensible, pleasant and accessible person that he was.
Cliff was born 83 years ago in Belize City on 8th August, 1932 to Reginald Arthurs and Florence (Kate) Arthurs. The Arthurs had seven children, four sons and three daughters. Emmett, at 87, is still going strong, Cliff's twin brother, Pastor Carlton R. Arthurs, is the highly acclaimed tele-evangelist who, with his wife, Pastor Sheila Arthurs, founded The Wheaton Christian Center in Carol Stream, Illinois; and Barrister Holman Arthurs. Holman and the three sisters, Geraldine, Marjorie and Ingrid (Mrs. Arthurs Trapp) pre-deceased Cliff. Clifton was married to Joanne, an American from Arizona, who was not only a dearly loved wife, but someone whom he immensely admired, respected and treasured. Michael, Cliff's only son, pre-deceased him.
Cliff Arthurs's father, "Godfather Reg", was the godfather of two of my older siblings. He, and his wife, "Miss Kate", were not only close friends of my parents, Joseph (Robbie) Belisle and Nelly Gibson Belisle, but both men, along with their colleague, Wilfred (Willy) Belisle, worked together as young, pioneer teachers in rural Belize. The Arthurs were a closely knit family, and were part of a now diminishing Creole tradition in Belize, which regarded kinship, friendship, loyalty, sharing and service, as supremely important, and to be sedulously observed and practiced.
Reginald Arthurs, himself, was a part of a tight circle of friends and colleagues in British colonial Belize. They were from all accounts, bright and ambitious young men, who formed an eclectic, intellectual and creative group, most of whom were members of the Wesley Old Boys Brigade Association. They included the likes of Roderick Augustus Pitts (Father Pitts), Jim Meighan, the Youngs (Selvyn, Edward and Henry), Philip Longsworth, the Staine brothers (Calvert and Morrel), Cleveland Arnold, the Hall brothers, Morris Mitchell, Percy Ewing, Edward Arthur Laing Sr., and the Belisle cousins, Willy and Robbie. This group, from which Reg Arthurs imbibed his core values, and which to some extent influenced Cliff and his siblings, was very unlike the youth of contemporary Belize. They were curious and critical about the world around and beyond them. And, without the benefit of university degrees, which were extremely rare in a colonial polity as Belize was then, were widely read, and fully engaged in economic, political, and philosophical discourses, many of which were often public. They, not only made music together, but were good writers and debaters; and in general created a truly stimulating, intellectual and creative atmosphere in the old capital.
From such an ethos Cliff emerged. And, that is why when he and his brothers, Emmett, Carlton and Holman, and their sister, Ingrid, later immigrated to the US, they were able to create and foster strong, responsive and caring family relationships which extended to and included family friends from the old days in Belize. Cliff's twin, Pastor Carlton, on 27th May, 2009, travelled with his wife all the way to Chicago to give an inspiring and greatly comforting sermon at my eldest brother's funeral service at Hemenway United Methodist Church. Much earlier, on 16th August, 1995, his lawyer brother, Holman, stood shoulder to shoulder with my siblings and I at my mother's funeral obsequies in Belize City. Immediately Clifton fell ill, his 83-year-old twin was in Belize by his side, and was with him at the end as he transited to another plane. On 5th July in Wheaton, Illinois, Cliff's nephew, Pastor Paul Arthurs, will conduct the funeral service at The Wheaton Christian Center.
Clifton B. Arthurs leaves behind his wife, Joanne, granddaughters, Colleen and Nicole of Houston, two brothers, Emmett of New York and Carlton of Wheaton, Illinois, and four great-grandchildren. For those who knew this affable and greatly loved Belizean brother, these lines from the poem: "Compensation" by Edgar Albert Guest provide the sort of epitaph that Cliff himself may have chosen.
"I'd like to think when life is done
That I had filled a needed post.
That here and there I'd paid my fare
With more than idle talk and boast;
That I had taken gifts divine.
The breath of life and manhood fine,
And tried to use them now and then
In service for my fellow men".
Follow The San Pedro Sun News on Twitter, become a fan on Facebook. Stay updated via RSS