#StrongwithKat Fundraiser yields tremendous community support
Friday, December 9th, 2016
On Friday, December 2nd and Saturday, December 3rd, Reef Radio, along with Sagebrush Church and the San Pedro Town Council (SPTC) organized and hosted a successful #StrongwithKat fundraiser to raise funds to assist San Pedrana Katherine Portillo. Portillo and her husband Pavel Ythjall were both involved in a serious car accident on December 5, 2015, which resulted in Portillo being paralyzed. This fundraiser united the community of Ambergris Caye, and saw many members selflessly give towards Portillo's medical expenses.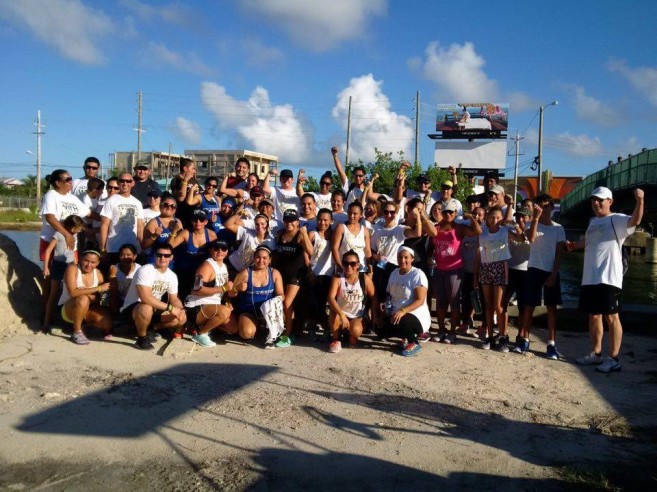 On December 2nd, while Sagebrush Church hosted a dollar drive at the Central Park, Reef Radio hosted a radiothon to ask the public for donations. The following day, the SPTC hosted a successful "walk/run" to show their support for Portillo. From 5:30AM, participants gathered at the Boca del Rio Park to begin their journey from the park to Belizean Shores and back. At 10AM, the Central Park was the designated area to also raise funds through a food and raffle sale. In total, close to $21,000 was collected, and Councilor Flora Anconca is in the process of exchanging the funds to send to Portillo who is receiving care in the USA.
According to Ancona, the community of San Pedro always had an interest to help Portillo, but since she had some assistance from the United States Army, they decided to wait. "There are certain things the US Army doesn't pay for, and since it was almost a year after the accident, we organized the fundraiser. The turnout was very good, and we are happy to have helped her," said Ancona.
#StrongwithKat was designed to spread awareness through social media, and Portillo was ecstatic to have seen the tremendous support from San Pedro. "I am fortunate to have the support of the San Pedro community. I was born and raised there on the island and that is where I call home…When the accident happened, the doctors didn't know if I would survive the trauma and I was in critical care for four months in the hospital…This fundraiser allowed me to see the support and love people have for me," said Portillo.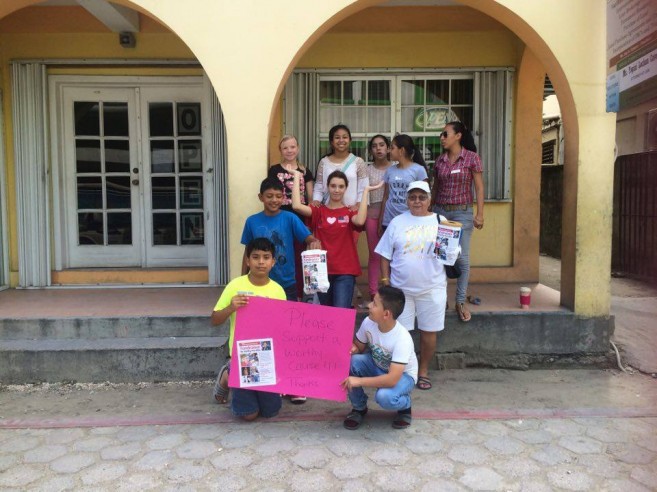 Portillo explained that monetary donations will be used to assist with the costs for her nursing care and physical therapy. "I am grateful to still be alive and continue to share this life with you all. The accident has been a traumatizing and life changing experience. Being paralyzed from my shoulders down, to include my hands, has been painful to accept and live with…It is very frustrating…I feel like part of me is dead and like I've lost some freedom. I used to be a very independent and career driven woman. I set and accomplished my goals with interest. Now, I am dependent on nursing care 24/7 and feel at a loss with life. However, I'm very grateful for the prayers and support from friends and family. It gives me strength and makes me feel loved. It's the medicine and therapy I need when my heart feels broken and alone because of my disability," said Portillo.
Portillo was born and raised in San Pedro until given a special opportunity to study abroad in the USA, where she joined the US Air Force. Prior to her accident, she excelled in her career as a satellite technical expert. She also enjoyed fitness and bodybuilding. Back in 2012, she earned the title of the International Federation of Body Builders' Bikini Pro, among other titles. Since her accident, she has inspired many people around the world.
Portillo would like give thanks to her brother Adam Portillo, her best friend Sophia Forman Lisbey, and her second mother Flora Ancona for leading the fundraiser. There are many other amazing friends and businesses that contributed to make this a successful event. Kelly Kanabar, Melly Sanchez, Wil Alamilla, Pamela Zetina, Velie Williams, André Guerrero, Daniela Guerrero, Rilma Rivero, Olive Eiley, Elvie Guerrero, Charles Worthington, Flavia Tzul, Angel Nunez, Steve Schulte, Reef Radio, Grand Caribe, The Phoenix, and Belizean Shores.
If you are interested in donating, you may do so by visiting her website at: http://strongwithkat.com/donate/
Follow The San Pedro Sun News on Twitter, become a fan on Facebook. Stay updated via RSS