Belizean artists encouraged to sign on to BSCAP
Wednesday, April 26th, 2017
The Office of the Music Ambassador announced its collaboration with Belize Society of Composers, Artists and Producers (BSCAP) to embark on a 'Nationwide Copyright Tour'. The tour officially kicked off in Dangriga's Slaughter House Bar & Grill on Thursday, April 20th, where BSCAP members, musicians, producers, authors, publishers, deejays, and promoters were invited to attend.


As a nonprofit/non-governmental copyright collective management organization, incorporated under the Companies Act of Belize, BSCAP represents the entire musical spectrum – including traditional Garifuna, Kriol and Maya music, brukdong, kungo, paranda, punta rock, sambai, reggae, calypso, soca, pop, rock, alternative, country, R&B, rap, hip‐hop, Latin, film and television music, folk, roots and blues, jazz, gospel, Christian, new age, theater and cabaret, dance, electronic, symphonic, and concert.
BSCAP Chief Executive Officer Shyne Barrow, son of Prime Minister Right Honorable Dean Barrow, said the tour is to "sensitize local artists and musicians of the copyrights attached to their work as well as their right to be remunerated for the commercial usage of their materials." During the presentation, the value of music, copyrights laws attached to an artist's creative work, artists' rights, and the benefits of becoming a BSCAP member were discussed.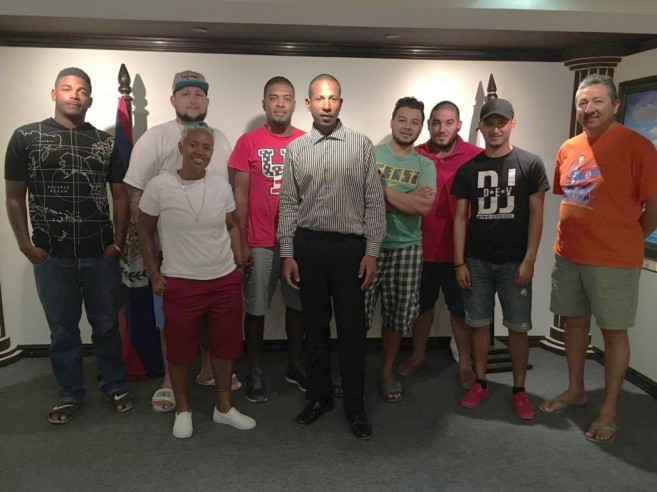 Prior to the tour, Barrow met with the San Pedro Town Council's (SPTC) Cultural Committee on Thursday, April 6th. Joined by Mayor Daniel Guerrero, Local Development Officer Jorge Aldana, and members of the San Pedro Ambergris Caye DJ Association, Barrow discussed the importance of copyright adherence, along with its potential benefits to Belize, such as attracting investors. He also discussed the issue of Intellectual Property, which under the Copyright Act 2000, indicates that it is illegal to use copyrighted works without the permission of the owner. Aldana told The San Pedro Sun that after the meeting, members agreed to pay their dues. He also mentioned that in the coming months, Barrow will be facilitating a series of discussions with not only the DJ Association, but also the tourism industry. The music ambassador intends to protect the rights of the owners, while making sure the music industry is improved.
BSCAP collects license fees from individuals, businesses and organizations that publicly perform music, mechanically reproduce music, broadcast music, or synchronize music. From the fees collected, BSCAP then distributes royalties to members who have signed up, and foreign affiliates that BSCAP has reciprocal agreements with.
Barrow explained that allowing artists to collect their royalties will empower them economically, allowing them to spend less time worrying about paying bills and providing for their families, and giving them more time to work creatively. "If we are seen as a country that does not respect intellectual property, then all sorts of businesses such as animation studios, record studios, movie studios, will not be interested in investing in Belize because they have no protection, no enforcement rights," said Barrow. He said he is also preparing to meet with Attorney General Michael Peyrefitte to make proposals on improving several laws, which include the Broadcasting and Trade Licensing Act. Barrow is also suggesting that the law mandates that at least 30% of the music played by Belizean content radio stations be Belizean music.
The Nationwide Copyright Tour continues on Thursday, April 27th in Belmopan, Thursday, May 4th in Orange Walk, Monday, May 15th in Belize City, Punta Gorda in June, Benque Viejo in July, and both San Pedro and Caye Caulker in August (dates to be announced).
BSCAP is committed to protecting the rights of copyright owners so that they can derive equitable compensation for their creativity, which in turn will further establish the arts as a competitive, vibrant and viable industry in Belize. In addition, BSCAP also improves and defends: the base of rights the organization manages through action for legislative change and court action to establish precedents in law; seek enforcement by court action of the rights managed where infringement or piracy occurs; inform and educate the public about intellectual property and the rights managed that flow therefrom; and help promote the arts by participating in and/or organizing artistic social and cultural events. For more information on the tour, please call 615-0565.
Follow The San Pedro Sun News on Twitter, become a fan on Facebook. Stay updated via RSS