Remembering tourism pioneer and island icon Ramon Nuñez Sr.
Friday, July 6th, 2018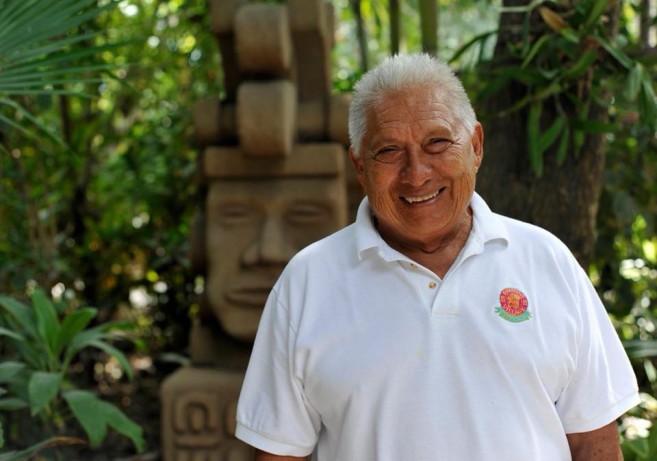 The island community of Ambergris Caye is mourning the loss of tourism pioneer and island icon, Ramon Nuñez Sr. on Thursday, June 28, 2018. On Monday, July 2nd, after memorial services at Ramon's Village Resort, his ashes were spread at sea in front of his beloved Ramon's Village Resort, as per his request.
Nuñez was born on June 12, 1940, on a sailboat off the coast of Belize. His father put his mother on the sailboat to get help with the delivery but ended up delivering the baby at sea. Nuñez was the last of 14 boys and a younger sister. He was a bright student and excelled in primary school, however, due to financial difficulties he could not attend college. Thereafter, he joined his father on the fishing boats and became a fisherman at the young age of 14.
Years later, he suffered an accident out at sea after getting stung by an Eagle Stingray, which left him badly ill for quite some time. The year was 1969 and it was during this time that someone knocked on his door. Nuñez described this person as an 'an angel,' sent to help his family while in dire need. This was the legendary Gerry McDermott, who was building a resort named the Paradise Hotel. McDermott offered Nuñez a job, which he quickly accepted. At that time, the hotel only consisted of three cabañas. Under McDermott, Nuñez learned scuba diving and ran the operations of one of the first five shops on the island.
In 1972, the Government of Belize asked Nuñez, the only certified native diver in the country at the time to guide Jacques Cousteau during his visit to the country. He guided Cousteau to the Blue Hole, as well as the cavern under Caye Caulker. While aboard the Cousteau's Calypso boat he also spent time with singer John Denver. He describes this episode as an experience of a lifetime.
Eight years later, he made the decision to leave the Paradise Hotel, as he felt ready to do his own thing. A group of investors from Mississippi USA invited him to open Ramon's Reef Resort. The projected first started with 10 cabañas and eventually expanded to 20 structures. After operating his Reef Resort for a couple years he sold it to current owners Richard Headrick in 1987. The name was changed to Ramon's Village and the size of the resort was expanded to include a total of 72 units. Under the Nuñez' watch, the resort became one of the premier resorts in the country with a level of quality and an unbeatable staff when it comes to client pampering. Ramon's is currently the headquarters for PADI in Belize, catering to divers and has some of the best certified instructors in the country.
Nuñez was considered a true lover of the sea and his island, his customer service and personality deemed impeccable. Friends like Lance Chancellor mourn the loss of someone they admired greatly. He described Nuñez as a great storyteller, his tales of Ambergris Caye captivating visitors for hours. "He had a special charm that instantly drew you to him," said Chancellor. "With a twinkle in his eye, he would tell you all about the beginnings of the then-named Ramon's Reef Resort, how the sleepy fishing village of San Pedro came to be, and how the resort came to be the premier world-renowned island resort." Chancellor says that Nuñez was larger than life itself and that anyone that had contact with him would instantly feel a connection to him.
The Ramon's Village Resort staff is also greatly saddened by the loss of a beloved man – a veritable fixture at their workplace. "We feel privileged to have been able to be a part of his life, as he was a father-figure in the workplace and loved every one of us and we loved him just the same. We will forever treasure the beautiful memories we shared and will always remember him with that big smile and open arms, reaching out to everyone that was heading his way. May he rest in Peace and rise in glory."
Nuñez contributed immensely to the growth of the tourism industry on Ambergris Caye, dedicating his time and efforts in hospitality, restaurants, gift shops, diving tours and instructor certification. He will forever be missed by all those who had the privilege of meeting him. His loss leaves an irreplaceable void, and his mark on the history of Ambergris Caye – and tourism in Belize – is a legacy to be proudly honoured.
The San Pedro Sun joins the island community in saluting Don Ramon. We extend our sincerest condolences to his family and friends.
May he rest in peace.
Follow The San Pedro Sun News on Twitter, become a fan on Facebook. Stay updated via RSS