Lord Ashcroft COVID-19 Relief Fund donates $100K to Ambergris Caye Families
Wednesday, April 8th, 2020
Press Release – Hope Haven Belize – Wednesday, April 8, 2020 – On Tuesday, April 7, Hope Haven Children's Home and Community Center, located on Ambergris Caye, received a donation of $100,000 from the Lord Ashcroft COVID-19 Relief Fund. The donation was provided to assist families in need of assistance during the pandemic crisis, and to assist with supplementing grocery donations to these families.
Bringing the total amount of cash donations for relief in Belize to over $10,000,000BZD, Lord Ashcroft has proven that his loyalty to Belize and its people sit at a prioritized level of concern during this time of crisis.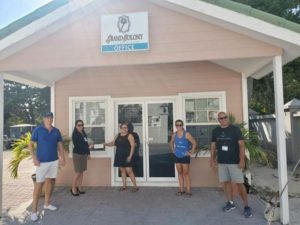 Hope Haven, alongside the Belize Department of Human Development/Social Services, make up the National Emergency Management Organization (NEMO) Relief and Supplies Committee, and with the assistance of the Lord Ashcroft COVID-19 Relief Fund, will continue to produce and deliver essential grocery items to all families that have been affected by this pandemic. On Ambergris Caye, a large percentage of the population relies on tourism, and were gravely affected following the announcement of the State of Emergency due to the novel COVID-19 virus.
On March 18th, Hope Haven made a crucial decision to suspend its hot meal feeding program (Colleen's Kitchen at San Pedro Food Bank) in order to focus on distribution of essential goods to its registered families. The donations were to provide enough groceries for 1 month per family, and included essentials such as rice, beans, flour, bread, and other non-perishable items.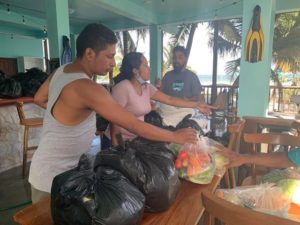 By March 31st, the food assistance program had been extended to all island families, and through the joint efforts of Social Services and NEMO, Hope Haven has provided over 500 families with grocery boxes and bags with two-week supplies.
To date – April 8th – Hope Haven has assessed 1,125 families, over 1,000 families have been provided with supplies, and over 400 additional families are waiting to be assessed. Lord Ashcroft's donation could not have come at a better time, as the reserves and donations provided by the hundreds of benefactors have been nearly exhausted. With this substantial donation, distribution will be able to continue through the month of April, and grocery boxes/bags will now be able to contain additional items such as meat/poultry, eggs, oatmeal, tuna, peanut butter, pasta and pasta sauce, and canned goods, along with the Social Services provided essentials of rice, beans, flour, and produce.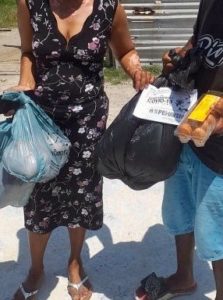 Hope Haven has no immediate plans to suspend the relief assistance for the community, and plans to continue providing as the resources continue to be available. While the donation and assistance by these organizations are well-received and utilized, they expect the amount of recipient registrations to continue to rise, and ask for any in-kind or monetary donations in order to provide for families in need.
Donations are utilized in their entirety (100%) to assist the current relief program, and can be made via the following methods:
* PayPal at https://paypal.me/hopehavenbze
* Atlantic Bank Account #100256642 (Raise Me Up, NGO)
For families or individuals that require assistance, please text your name and location to 670-7030, and a Hope Haven representative will call you to fill out your application. Please be patient and only text once. An operator then adds the name to a calling list. Once their name gets on the list, one of the volunteers calls them and fills out an online form. Once the form is submitted, the information is populated on a Google sheet and the delivery list is printed. Questions on the form include names and social security numbers for each member of the family over 18, where they were working, and their reason for seeking assistance. The comprehensive form does not allow for families to seek assistance more than once in the two-week span. Each family receives groceries every two weeks once their assessment is on file.
NEMO encourages all organizations and individuals desiring to assist with relief efforts to work alongside the Relief and Supplies Committee as to ensure that crucial deliveries are provided to everyone requiring assistance, and that donations are not doubled to existing families while others are still waiting. The Relief and Supplies Committee has lists of every family, and are happy and willing to assist in all community donation efforts. The committee also encourages others groups to conserve their resources as this is an ongoing issue, as they have project that the ongoing and growing list of families will require assistance for up to (or over) 3 months. Please email [email protected] for a current list of families.
The Hope Haven board would like to thank every single person and organization who have made these relief efforts possible, and each and every volunteer for assisting and showing solidarity to their San Pedro community.
Follow The San Pedro Sun News on Twitter, become a fan on Facebook. Stay updated via RSS