Evarista Badillo selected as Mother of the Year 2020 in special Mother's Day celebration
Sunday, May 10th, 2020
Despite the cancellation of this year's Mother's Day extravaganza on Ambergris Caye, islanders still celebrated the occasions via a special live program via Reef TV. Many Mothers from Ambergris Caye and Caye Caulker won fabulous prizes during the TV show. At the end of the special program, Ambergris Caye's Evarista Badillo was selected as the 2020-2021 Mother of the Year.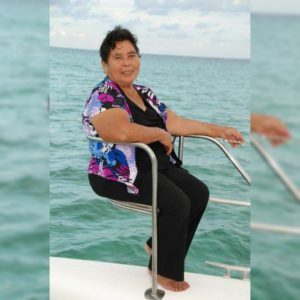 The annual extravaganza of entertainment to honour Ambergris Caye's mothers would have taken place over the weekend at the Honourable Louis Sylvestre Sporting Complex. The popular celebration often includes a variety of performances from Belize and abroad, live music and tons of giveaways. Since the country is under a State of Emergency due to COVID-19 and large public events are prohibited, organizers of the event from the San Pedro Town Council (SPTC) and the business community teamed up to celebrate the occasion via the morning show on Reef TV. Many business establishments along with the local authorities (SPTC and Area Representative) donated prizes ranging from cash, jewelry, dinners, gift certificates and golf cart rentals among others.
During the TV program, host Eiden Salazar Jr., pulled names from a container calling out the names of the lucky winners. Some of the prizes were picked up right away at the studios of Reef TV, while others like cash prizes from Area Representative Honourable Manuel Heredia Jr., were asked to be picked up at the Belize Tourism Board's office on Monday, April 11th between the hours of 9AM and 10AM.
Throughout the program, callers nominated their mothers for the coveted prize of Mother of the Year. The participants had to be 65-years-old and older and must live on the island. After all prizes had been given out, organizers were ready to announce the winner of this year. Over 40 names had been submitted for the competition, but there could only be one winner. Following a commercial break, Salazar had the privilege of drawing out the winning name and taking the title of Mother of Year 2020-2021 was 77-year-old Evarista Badillo.
A date is yet to be announced for a sashing ceremony to make her title official and receive her prizes. Mother of the Year 2019-2020 was Eli Ochaeta.
Organizers of the event would like to thank all sponsors, volunteers, Reef TV, the local authorities, and everyone who in one way or another made this year's special celebration a grand success. A BIG thank you to all and from all of us here at The San Pedro Sun, Happy Mother's Day!
Follow The San Pedro Sun News on Twitter, become a fan on Facebook. Stay updated via RSS