BWRC wins "Inspiration in Action" contest by Heska
Sunday, January 1st, 2012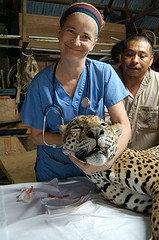 Press Release – Belize Wildlife Conservation Network – December 23, 2011 – On December 20, 2011 the Belize Wildlife Conservation Network (BWCN) received an early Christmas gift! The founder, Dr. Isabelle Paquet-Durand, a wildlife veterinarian residing in Belize since 2003, was informed that the proposal for the "Belize Wildlife and Referral Clinic" (BWRC) had won first prize in the Heska "Inspiration in Action" contest. She and her husband Justin Ford, Natural Resource Management Lecturer at Sacred Heart Junior College, had spent the last six months writing grants to fund equipment for the Belize Wildlife and Referral Clinic. The Heska grant was the first to succeed, and by far the most public. The prize money of $25,000US will provide funding for a portable X-ray and gas anesthesia machine, bringing Dr. Isabelle one step closer to fulfilling her lifelong ambition; advancing wildlife and veterinary medicine in Belize.
Since 1994 Dr. Isabelle, a German trained Veterinarian and French national, has worked with wildlife projects throughout much of Latin America, spending two of those years in Costa Rica where she studied for her doctorate in parasitology and public health. Since 2003, she has worked closely with the Belize Forest Department and wildlife NGOs, providing wildlife veterinary medical assistance and training. After much stakeholder consultation, in August 2009 the first "Belize Wildlife Conservation Networking Conference" was held and BWCN was established to facilitate communication and cooperation between GOB, NGOs and private organizations in wildlife conservation. The Belize Wildlife Referral Clinic is the next major step to support wildlife conservation efforts with needed medical services.
Heska, a US veterinary medical equipment manufacturer, organized the "Inspiration in Action" contest for which over 300 veterinary practices and organizations competed. It seemed unlikely that an organization outside of the US would be a strong contestant. The Belize Wildlife and Referral Clinic was the first and only Belizean applicant, among a pool of mostly US based and international entities including well known organizations such as the France-based "Veterinarians without Border." After two rounds of judging, five finalists were selected for public voting. After three weeks of intensive networking rallying votes, doubts were quelled and excitement rang out among the hundreds of people who supported the Belizean project and helped to raise thousands of votes from US citizens. The award will be presented in January 2012 at the American Veterinary Association Conference.
BWCN insists that the clinic will not only serve wildlife, but provide Belize with a facility where veterinarians can access medical equipment difficult to afford for the individual private practice. Dr. Isabelle currently serves as Secretary of the Belize Veterinary Association, and is the Councillor for the Commonwealth Veterinary Association. Before his untimely passing, Dr. DeShield suggested Dr. Isabelle to take his place on the Veterinary Surgeon's Board; which she sadly and humbly accepted. For more information about BWCN and the upcoming Belize Wildlife and Referral Clinic in the Cayo District, visit: www.wildlifebelize.com.
Follow The San Pedro Sun News on Twitter, become a fan on Facebook. Stay updated via RSS