Coroner's Inquest: "Reyes acted in Self Defense"
Thursday, June 30th, 2011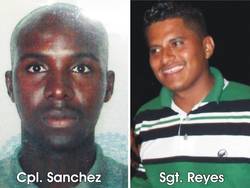 Sometime after 3a.m. on March 18, 2010, gun shots were heard in the San Juan Area of San Pedro Town. Neighbors claimed to have heard up to eight shots and as dawn broke, news that police Corporal Gavin Sanchez, dispatched to the San Pedro Police Department had lost his life after being fatally wounded by one of his own. Sergeant Paulino Reyes was the officer involved in the shooting, and went on to officially claim "Self Defense", as a reason for the incident. The initial story was published in Volume 20 Issue #12 dated March 25, 2010, of The San Pedro Sun.
The Department of Public Prosecution's (DPP) office concluded its investigation in October of 2010 and concluded that Sergeant Reyes's actions were in effect done in self defense. These findings proved controversial as many were unhappy with the findings. As a result, the case was taken to an even higher level – a Coroner's Inquest was ordered.
The inquest was held in the courtroom of Magistrate Roberto Ordonez. A total of 18 witnesses took the stand to testify, including Dr. Mario Estradabran (Forensic Pathologist) and Sanchez's wife. Dr. Estradabran testified that Corporal Sanchez was shot eight times and that the injury which caused his death was a gunshot to the head. In the end, a jury of two men and three women deliberated for a mere half an hour before concluding that Reyes acted in self-defense when he shot Sanchez.
While the inquest was opened to the public, questions remain. Who were the 18 individuals that testified? The San Pedro Sun contacted the Magistrate's Courts for further information but was informed that the findings were not available for the media and would not entertain any questions. Until this information is available the question will remain; how did the jury reach this conclusion and what evidence was it based on?
Follow The San Pedro Sun News on Twitter, become a fan on Facebook. Stay updated via RSS