Former leader of GSU, Mark Flowers charged for unlawful sexual conduct
Friday, July 29th, 2016
Former head of the Gang Suppression Unit (GSU), Superintendent Mark Flowers has been replaced after being arrested and charged for unlawful sexual contact with a minor. According to police investigation, Flowers has been accused of allegedly engaging in sexual activities with a 14-year-old girl as recently as May of this year.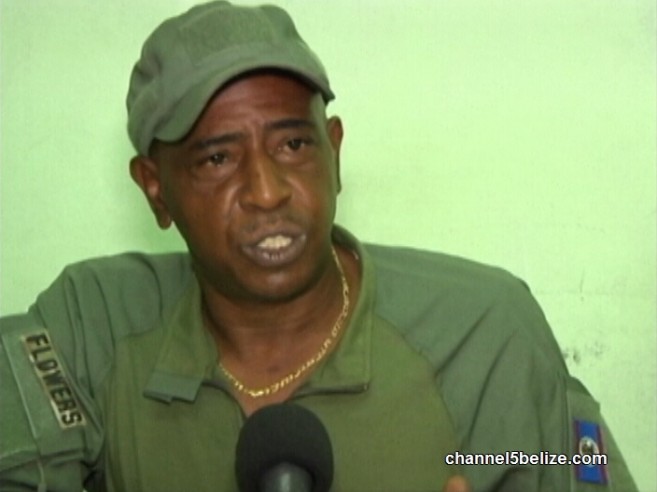 On Tuesday, July 26th, after appearing before Chief Magistrate, Ann-Marie Smith, Flowers was read his charges, being two counts of unlawful sexual intercourse, then remanded to the Belize Central Prison. He is to re-appear in court on September 26th when disclosure is to be given. A case management has also been scheduled for October 6th to take place in the Belmopan Magistrate's Court.
Flowers admitted having met the minor in the summer of 2015, but he strongly denies ever having any physical contact with her. He also pointed out that the report against him was done shortly after he let go of the minor's stepfather from duties at his farmland in Blackman Eddy Village. "In March of this year, I hired a gentleman as my farmhand assistant, it turned out it was the girl's stepfather," said Flowers. "During the time he worked for me, whenever I would come to either pay him or check on him he could never be located. So I came to the conclusion that I didn't need his services anymore." Flowers stated that following the firing of the minor's stepfather, he travelled to the United States.
After returning to Belize, Flowers was met with the news that a report had been filed against him for unlawful sexual encounter with a minor. He further stated that he immediately offered any assistance from his part in order to clarify the situation. "I was willing to supply whatever bodily fluid was necessary for a DNA test to be done immediately. However, since I requested such a scientific method, I was informed that there has been outside interference. Interference coming from the Ministry of National Security," said Flowers. According to him, the idea to have a DNA test done, had been disregarded and instead, an arrest on him was immediately ordered
Flowers believes that he has been targeted by the Minister of National Security Honourable John Saldivar. He believes it all started after he supported Saldivar's rival Honourable Patrick Faber during his campaign for First Deputy Leader of United Democratic Party. "I have done my investigation because it is my reputation and my life that is on the line. I have learned that by my virtue of posting on Facebook a couple weeks or months ago, a picture with the now Deputy Prime Minister and commenting on how charismatic this politician is, that I would have fallen out of grace and favour with Saldivar," said Flowers. He stated that, regardless of what has happened, he does not regret having placed such a post on his Facebook wall. Additionally, Flowers added that similar complaints had been filed by the minor and her mother with Belmopan police early this year, but those were not against him. However, he also indicated that nothing came of those cases.
Following the allegations from Flowers that Saldivar is interfering in the process of the investigation and perhaps making contacts with the family of the girl, the minor's family stated otherwise. They rebuked Flower's accusations by saying that they do not know Minister Saldivar. The family spokesperson also denied any allegations in regards to them accepting monies to blackmail Flowers. But despite these contradictions, Flowers maintains that he is the target. "So many other reports were made, but they did not worry about that," said Flowers. Until the investigation is finalized, he asserts that Minister Saldivar is manipulating the police department where it concerns the investigation into the sexual assault allegations made against him. "I am in full compliance in whatever the prosecutors want to do. I have nothing to hide," ended Flowers.
In the meantime, on Tuesday, July 26th, the United Women's Group (UWG), which is the women's arm of the People's United Party, issued a press release. The document expressed their deep concern over the allegations against Flowers and as described as 'the continuing abuse and exploitation perpetrated on defenceless individuals by high officials who are sworn to serve and protect the public.' The release continued by stating the outrage from the UWG at the complaints against the GSU former head and cites the many reports of his abuse of office. UWG called on the police to investigate the matter in a fair manner, without granting special treatment to Flowers. The group also called on the National Committee for Families and Children, the Special Envoy for Women and Children and other child protection agencies to speak out against the allegation and the abuse of children
Flowers' new replacement as the GSU's chief is Inspector Glen Caliz, who was considered the next highest ranking officer at the Unit.
Follow The San Pedro Sun News on Twitter, become a fan on Facebook. Stay updated via RSS