Belizean-American Lalman Logan charged for Christopher Meighan's murder; Police seeking Rufino Hernandez
Monday, October 1st, 2018
On the afternoon of Monday, October, 1st, 29-year-old Belizean American Lalman Richard Logan was formally arraigned at the San Pedro Magistrate Court in connection to the murder of Caye Caulker resident, 21-year-old Christopher Meighan. No plea was taken and Logan was denied bail and remanded until his next court date on December 6th. Meighan was found dead inside a hotel in downtown San Pedro on Friday, September 28th with a cut wound to his throat, a stab to his abdomen and left foot. The previous day, Meighan was observed checking in to the hotel accompanied by Logan and another person identified as 29-year-old Rufino Hernandez. After the discovery of the murder the following day, Logan was detained at the Philip Goldson International Airport (PGIA) as he was attempting to leave the country, while Hernandez is being sought by police.
While Logan insists that he is not responsible for Meighan's murder, video surveillance footage from the hotel shows him signing in and paying for room #14 on the evening of Thursday, September 27th. In the video, Meighan is wearing a white strong man shirt, while Hernandez is standing behind them.
According to the hotel supervisor, they were to check out the following day at 11AM, but when no one returned to the front desk, he went to the room. The supervisor said that when he approached the room he could hear the TV on, and when he got closer he noticed the door ajar. He slightly pushed the door open and that is when he discovered Meighan's lifeless body. "I did not go inside the room," he said. "When I saw all that blood and the body I went right back to my office and called the police." Another employee of the hotel added that the incident may have happened as the trio checked in. According to surveillance footage where the room is, Logan, Hernandez, and Meighan are shown entering the room around 9:20PM and then by 9:35PM only Logan and Hernandez are observed leaving the room; they never returned to the room.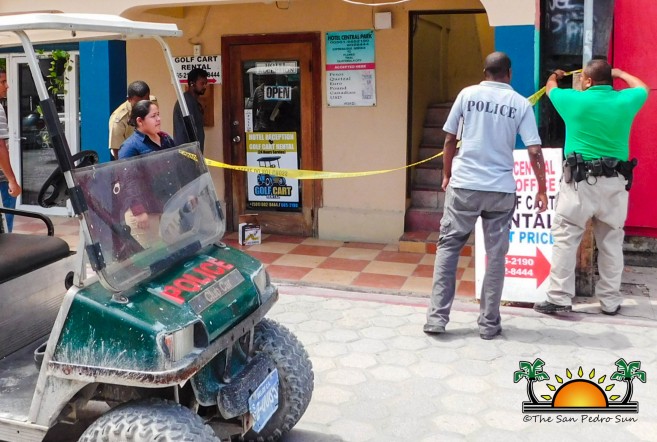 A police report indicates that after responding to the incident around 11:18AM on Friday, September 28th, officers found Meighan in a sitting position between two beds inside the room in a pool of blood. Other details reveal that there might have been a struggle as blood was smeared on the wall, as well as on other items, including the doorknob.
Following Logan's charge and arraignment, police are seeking the public's assistance in apprehending Hernandez, who is believed to be connected with the murder. Hernandez, a resident from the San Mateo Area, is believed to have left the island, but police hope to arrest him soon as their investigation continues.
Any person with information leading to Hernandez' arrest is advised to contact their nearest police station. All tips and information can remain anonymous.
Follow The San Pedro Sun News on Twitter, become a fan on Facebook. Stay updated via RSS