Doctor Love: Alone Again
Sunday, February 10th, 2013
Dear Doctor,
I am nineteen-years-old and have had only a few (5) relationships with the opposite sex that got past one or two dates. Every time I do have one that starts to get really close I seem to turn around and run the other way. This happens every time the relationship starts to get to the point where it is turning sexual. I'm not sure if it is because of my lack of experience or what. I do know that I like guys a lot and the one relationship that I had that was sexual was the most wonderful thing that has ever happened to me. That relationship is past and I know it is gone but I would love to have all of those feelings again.
One of my big problems is that I can't seem to get past the kissing stage. I don't know if there are that many guys out there who are just bad kissers or is it just me. Almost every time that first kiss is so disgusting that I don't want another date or even another drink. I just want to go home and be by myself.
Is there something seriously wrong with me? I really like guys but I don't know if I can deal with much more of these sloppy and gross kissers. I have a friend who tried to talk me into dating another girl. She tried to convince me to try it because she says that women are the best kissers because they know how a woman wants to be kissed. That may be true but I don't want that. I just want a normal relationship with a guy who can kiss me like my one true love did and make me want him instead of turning me off.
Is this too much to ask? Help!
/s/ Alone Again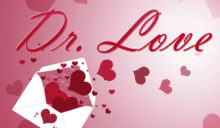 Dear Alone,

Relax. There is nothing wrong with you.

The majority of guys your age don't have the slightest clue about kissing. Since they know nothing of kissing, they also don't know anything about sex, which is where kissing eventually leads. Most nineteen-year-old males have what the Doctor calls Australian sex, which means that they are as knowledgeable about sex as they are about Australia. They know it's down there somewhere but they don't know much more about it.

You can keep dating until you find a man who kisses you and makes your toes curl, but you will be kissing a lot of toads to find a Central American prince. It is a daunting task. Furthermore, this means he's had a lot of practice to get good at it. Are you sure you want that?

Here is your best bet; Find a guy that fits your qualifications in every other way and teach him what you like. You don't have to come right out and smack him on the head when he's getting it wrong (except in a few cases). Gently let him know what you like and what you don't like. If he has an ounce of intelligence, he will be grateful to you.
Remember; he is clueless or you wouldn't have to teach him. Furthermore, even if he doesn't stay with you, he will find the new knowledge extremely useful in his next relationship.
Follow The San Pedro Sun News on Twitter, become a fan on Facebook. Stay updated via RSS