Doctor Love: I think he's gross yet my friends are all over him.
Sunday, July 7th, 2013
Dear Doctor Love,
I met a guy in the last month that I find totally disgusting yet a lot of my friends think he is really hot. He is not ugly but his looks are not what I find repulsive. It is his attitude. He is the kind who likes to brag about all of the things he has and how much money he makes. His come-on line to me was to ask me to go on a weekend trip with him to the Bahamas. I had only just met him when he asked me this. He told me about the wonderful hotel we would stay at and offered to take me shopping in Miami. He was actually surprised when I flatly turned him down. One of my girlfriend's took him up on it and she came back all excited about her trip and all of the money he had spent on her. She was looking forward to a long term relationship. Now, he doesn't even talk to her and is working on another one of my friends. At this point it looks like she will probably go for it, too. He still tries me out every once in a while and always seems to think that sooner or later I will change my mind. There is no chance of that.
What I don't understand is my friend's attitudes toward a guy like this. To me he is basically a creep who feels like he has to buy women. The friend who went with him now agrees with me and says that the trip was a mistake. If I could see right through him from the beginning why couldn't she see that before she went with him? What would make a normal looking guy act this way?
/s/ Not Easy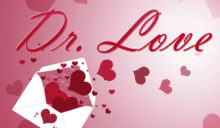 Dear Not Easy,
You seem to be a good judge of character but not everyone is. The guy who asked you out obviously misjudged your character, just as your friend misjudged his. You did the right thing by staying away from someone who is suspect to you.
It is not politically correct to generalize about people but the Doctor has no obligation to be politically correct. This is said leading up to several generalizations about people in general.
Just because a guy has money does not make him one of those people who feel that they have to buy their women. As a matter of fact, many very wealthy guys keep their wealth hidden just so they don't have to feel like women are going for them just for their money. Some guys who have a little bit of money try to act like they have a lot just so women will go for them. They are, in effect, buying their women.
On the other side of this equation are women who go for guys just because they are rich.
Now we are getting somewhere. On the one hand we have a buyer and on the other we have a seller. The relationship has been reduced to a simple business transaction. The buyers and sellers will eventually get together. More power to them if it makes them happy to do so. They deserve each other.
Follow The San Pedro Sun News on Twitter, become a fan on Facebook. Stay updated via RSS