10 laptops donated to San Pedro Town Library
Sunday, March 11th, 2012
Press Release – February 25, 2012 – San Pedro Public Library
Thanks to the generosity of Mr. George Parker and daughter Sundee, the San Pedro Town Public Library received an early Easter basket with 10 laptops, a Router and 8 CD-ROM's. Below is an excerpt of a communiqué between George and the SP Library:
"I have always been an avid reader and I appreciate the dedication your staff and volunteers offer to the local community. I am sure it has ignited a love for reading and learning within Ambergris Caye and San Pedro Town residents. We talked at that time about how we could further your quest for the betterment of the library and the resources it offers the people of Ambergris Caye. It was exciting to talk about the possibility of having computers on site and offering classes for children as well as adults. The ability to access the internet through computers is now the way of the world. We feel it is important for people to have contact with this technology and to learn how to use it. Therefore, in support of the San Pedro Town Public Library, I would like to donate 10 laptop computers and a router."
The staff at the San Pedro Town Library are overwhelmed and excited, but most of all, greatly appreciative of the generous donation. At the moment a volunteer or organization is being sought to offer computer classes to children and adults. Any persons interested may please contact Mrs. Iracela Acosta at the San Pedro Library, or call 501-206-2028.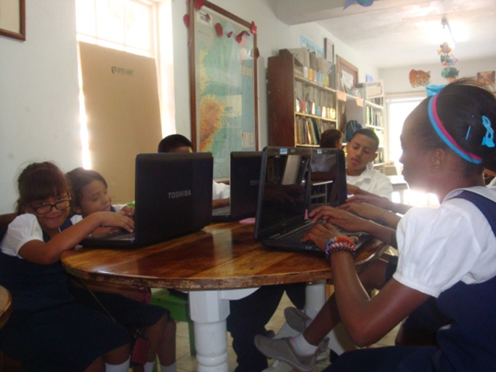 Follow The San Pedro Sun News on Twitter, become a fan on Facebook. Stay updated via RSS