SPRCS moving ahead with Quality Child Friendly School Initiative Pilot Program
Saturday, March 17th, 2012
The San Pedro Roman Catholic School is moving ahead with the Quality Child Friendly School Initiative (QCFSI) pilot project that was adopted earlier during the start of the school year. The initiative is geared towards encouraging the community, and most importantly the parents, to attend school sessions with their children. Such activities give parents an appreciation for their children's work as well as the learning institution. As such, the school held their second session on Wednesday, March 14th where the upper division students invited their parents to participate in one of their class lessons.
The standard six students were involved in two separate class lessons. One group focused on healthy living, with a hands-on approach geared towards the students learning about the basic food groups, their nutritional values and the components of a food pyramid. The students worked along with their parents to create examples of a balanced breakfast, lunch, dinner and even healthy drinks.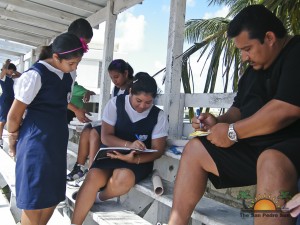 The second group of students was divided in groups with their parents, where they tackled a mathematical lesson dealing with measurements. In this exercise, students and parents were required to take to the school's five-a-side field, where they measured various areas of the field. The numbers were recorded and converted into various units of measurements, thus giving the teams a better understanding of the subject matter.
The aim of the QCFSI project is to improve the quality of education in Belize, an initiative that received $200,000 in funding from UNICEF in 2010. Throughout the course of the pilot project, parents and members of the community will be invited to participate in similar activities. All ten pilot schools countrywide are taking a similar approach, and it is the hope of the Ministry of Education to eventually introduce this initiative to all primary schools countrywide if the pilot is successful.
Follow The San Pedro Sun News on Twitter, become a fan on Facebook. Stay updated via RSS