Child Friendly Initiative Seminar held in San Pedro
Wednesday, July 8th, 2015
The United Nations International Children's Emergency Fund (UNICEF,) in collaboration with the Government of Belize (GOB) and the San Pedro Town Council (SPTC), held a Child Friendly Initiative workshop on Friday, July 3rd, in San Pedro Town. The seminar's main purpose was to set in place pillars to later develop in an effort to address children's issues on the island. Six main topics were discussed aimed at the betterment of conditions for the survival, growth, and development of children including ensuring that their rights are at the forefront of policy-planning and policy implementation at the local level. This initiative, which was launched in September 2014, received wide recognition and the official endorsement by all Mayors across the country.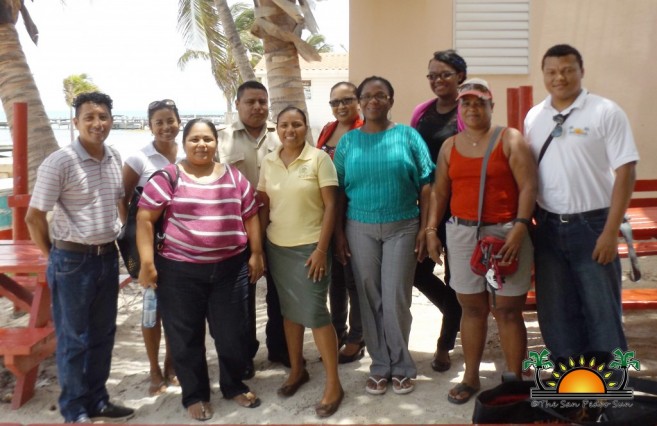 UNICEF Monitor and Evaluation Specialist Paulette Wade called on children's participation on the island. "It is important to know if children have a right to be heard in any judicial proceedings that may be affecting them. It is also important to have arrangements to ensure consideration of the perspective of babies and very young children and respect the views of the child promoted to the public and in particular to parents," said Wade.
Another of the goals for the organization in San Pedro is to create a child-friendly legal framework. Wade noted that there has to be a national review of the legislation affecting children to ensure their welfare. The local authorities need to review the legislation under their control to ensure it respects the children's rights. There has to be town-wide reviews to ensure that children, especially those in difficult circumstances have access to advice, advocacy, and complaint procedures to ensure remedies for any breaches of their rights.
Developing town-wide children's rights strategy was another topic discussed at the workshop. This topic called for a strategy which will cover all children in town, with special attention to children who may be socially excluded or marginalized. "This is a very important clause, as we need to know if the local authorities are developing a strategy focused on creating a child friendly town," stated Wade. She went on to emphasize the need for a children's rights unit or coordinating mechanism. This unit would have to maintain direct contact with children and ensure those children's views are respected in its work and in the work of all governmental levels across San Pedro. This was followed by child impact assessment and evaluation which is an aspect of the initiative that will entail a process to ensure that an impact assessment is carried out early enough to influence decision-making. Those decisions will evaluate and take into account the situation of all children, including disadvantaged and marginalized ones.
The last concept was coming up with a children's budget. "As long as we have plans for children with cost estimations, then that is already a budget. The local leadership should work regularly with the community based organizations and community governance structures, while at the same time, local authorities should be able to identify whether the children are receiving a fair share of the resources in services," Wade continued. "The town councilors should engage, if needed, in training concerning children's rights, and moreover prepare a children's budget and disseminate it to indicate the resources committed to children in all their aspects," ended Wade.
A committee of twelve members were elected at the seminar to meet regularly to discuss matters concerning the children of the island. The committee comprises of Kristina Romero from the Ministry of Health, Odelia Caliz from the Education Department, Alexis Guerrero from San Pedro High School, Diana Uh from San Pedro RC School, Lisbet Perez from Ambergris Caye Elementary, Dion Vansen from The San Pedro Sun, Juan Choc from the Belize Police Department- Community Policing Unit, Jorge Aldana and Ruben Gonzalez from San Pedro Town Council, Sharon Hazel from Isla Bonita Elementary School, Kay – De Voughn and Paulette Wade from UNICEF. The committee will be responsible for reviewing all aspects, from child labor, accessibility to play areas for children with disabilities, availability of health care and availability of services for children not living at home or out of school.
On Wednesday, July 22nd, UNICEF will host a general meeting at the Biltmore Plaza Hotel in Belize City, The San Pedro Committee is expected to attend.
Follow The San Pedro Sun News on Twitter, become a fan on Facebook. Stay updated via RSS