Five-Year plan set in place to make San Pedro Town a Child Friendly Municipality
Thursday, March 17th, 2016
Children are raising the bar as they take on a big role in voicing their concerns and expressing their ideas towards improving the standards of life in San Pedro. Within the next five years, major changes are set to take place as our leaders of tomorrow contribute to structuring an effective plan. According to United Nations International Children's Emergency Fund (UNICEF), San Pedro is one of four municipalities in Belize that has not been certified as a "Child Friendly Municipality".
That changed on Friday, March 11th when the Ministry of Local Government, in collaboration with UNICEF and the Belize's Mayor Association held an assembly at The San Pedro Town Council's conference room implementing the "Sustainable Child Friendly Municipalities" Initiative (SCFM). The San Pedro Child Friendly Municipal Developmental Plan is directed in several areas: environment, pollution, educational development and transportation.
Presenting the plan was Keisha Rodriguez, an urban planner contracted by UNICEF, who has previously worked with seven other municipalities. Rodriguez organized a presentation with key points and strategies that will guide San Pedro through the years of 2016 to 2021. According to Rodriguez, children make up 50% of the population in San Pedro. School enrollment numbers are decreasing, and education data shows significantly less children enrolled in high school. Schools are at their capacity, having only six primary schools and one high school on the island. Rodriguez introduced concepts that took into consideration children's top observations: opening other schools, the availability of healthy foods in school, bullying in school, drug use in high school and making education more affordable.
All educational institutes in San Pedro have one struggle in common, and that is poor attendance rates due to the lack of transportation. There are no designated vehicles to pick up students. Members of the committee, PC Harris Gabriel, discussed having a bus stop and charter vehicle service. Rodriguez took note of the suggestions to enact a plan.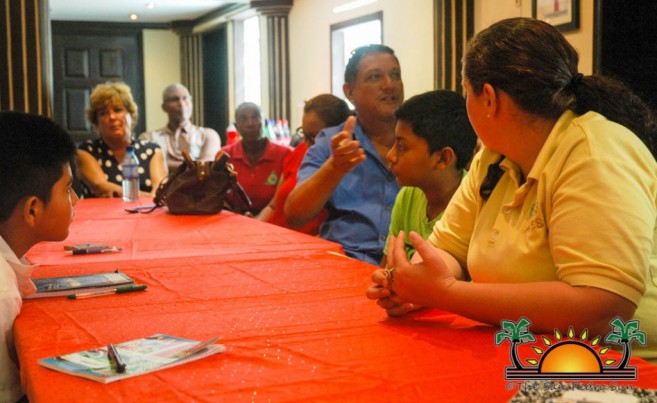 Jorge Aldana of The San Pedro Town Council was pleased to see a great turn out of stakeholders and students. "The recommendations they are making will guide us for the next five years. We need to validate the results of the consultations so we can adapt and bring it forth to the town council," said Aldana.
Under the Environmental, Safety, and Infrastructure Development, by the end of 2021, 'Goal 2021' is expected to be achieved when all children living in San Pedro have to access to quality, reliable, and affordable educational services. As a community, you can also make a difference by supporting the SCFMI, ensuring that our community becomes certified as a "Child Friendly Municipality."
Those in attendance included: Mayor Daniel Guerrero, Jorge Aldana of The San Pedro Town Council, Kay Devaughn coordinator for the Child Friendly Initiative, Eugene Palacio of the Ministry of Local Government, Sarah Freudenberg from Ambergris Caye Elementary and students, Maria Guerrero from San Pedro RC School, Oldelia Caliz from the Ministry of Education, Dixie Bowden from The Island Academy and students, Chelsea Hall from The San Pedro Sun, Kristina Romero of the National Drug Abuse Control Council, Mito Paz from the San Pedro House of Culture, Clive Welsh from the Lighthouse Christian Radio Ministry, Lincoln Flowers Department of Youth Services, Councilor Hector "Tito" Alamilla of San Pedro Town Council, PC Harris Gabriel Community Policing and Ebony Budwa from New Horizon SDA School and students.
Follow The San Pedro Sun News on Twitter, become a fan on Facebook. Stay updated via RSS