Kylie Alamilla wins NEMO Quiz Contest during NEMO week
Thursday, May 31st, 2012
National Emergency Management Organization (NEMO) San Pedro hosted "NEMO Week" in preparation for the 2012 Hurricane season, which is slated to be a less active season than last year, this week. The week commenced on Sunday May 27th with a special mass held in preparation for the season and will go through June 1, 2012.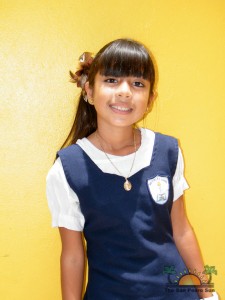 Under the theme "Preserving Life and Property", a quiz contest was held at the San Pedro Lion's Den on Tuesday May 29th at 10AM and Kylie Alamilla of the Standard 4 class at San Pedro Roman Catholic School (SPRCS) dominated the competition. Schools from both Caye Caulker and San Pedro were invited to participate, but due to unforeseen circumstances, Holy Cross and New Horizon SDA had to drop out of competition. In the end, Albert Gordon and Guillermo Nuñez of Isla Bonita Elementary and Kylie Alamilla of SPRCS battled it out at the Lion's Den.
Students were given a list of 150 questions, of which participating students were required to study the first 125. There were three nine-question rounds in the competition, three questions per participant. Each question answered correctly earned the participant ten points with a total of 90 possible points at the end of round three.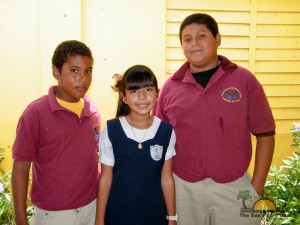 At the end of round one, Kylie was in the lead with 30 points, while Alberto of Island Academy had managed to garner 10 points and Guillermo had 0. Round two saw Kylie taking a drastic lead with another 30 points, Alberto 10 and Guillermo 20 points. By the end of round three Kylie was named winner with 90 points while Guillermo and Albert moved onto the reserve list of questions to battle it out for second and third place. The reserve list had twelve questions, at the end of which, neither boys managed to get a correct answer. After re-wording one question from the reserved list and presenting it to the two boys with no response, event Coordinator, Miss Jeromey Timrose decided to declare the person to give one name from 2012's list of hurricane names, the second place winner. Albert was the first to respond correctly, giving him second place while Guillermo had to settle for third.
For winning first place, Kylie received $500 worth of school materials to be given to her school, SPRCS. Second and third place winners got $300 and $150 worth of school supplies donated to their school, Isla Bonita Elementary. The San Pedro Sun joins the organizers in congratulating all competing schools and students. The organizers also take this opportunity to thank sponsors: Scotia Bank Ltd San Pedro Branch, Hol Chan Marine Reserve, Victoria House, Grand Belizean Estates, Atlantic Bank and the San Pedro Town Council. Special thanks go to the tabulators for the event, Kenrick Brackett, Rienny Cayetano and Shirley Eiley, as well as to the MC, Mr. Winston Panton.
NEMO Week ends with an entertainment night on June 1st scheduled to start at 7PM at the Central Park. For more information on NEMO and its services, contact Ms. Jeromey Timrose, district emergency coordinators for Belize Rural South at telephone numbers: 206-2891, 600-8672 or 666–7476.
Follow The San Pedro Sun News on Twitter, become a fan on Facebook. Stay updated via RSS