Mayor Daniel Guerrero given demerit over unauthorized holiday
Wednesday, September 16th, 2015
After declaring an unauthorized holiday for Friday, September 11th, Mayor of San Pedro Town Daniel Guerrero has been chastised by the Ministry of Education (MOE). During the St. George's Caye Day celebrations on Thursday, September 10th, Guerrero announced that he was granting a holiday for all island schools on the following day. But that holiday was not sanctioned by the MOE. As a matter of fact, Guerrero's petition for the holiday before September 10th had been denied.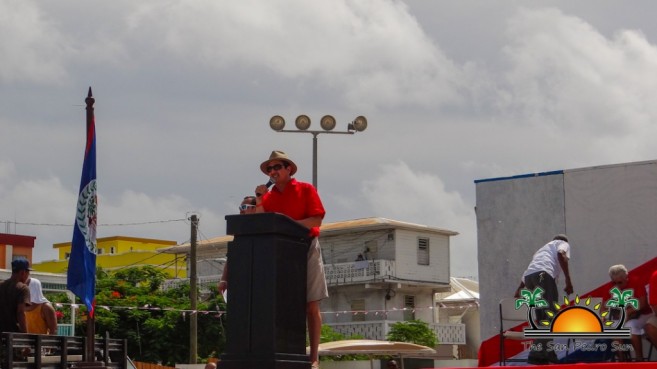 In a press release, MOE started "The arbitrary decision at a municipal level cannot be condoned. The determination of Public and Bank Holidays, or the declaration of non-school days, is not within the jurisdiction of municipal authorities. The Ministry condemns the ill-advised and unauthorized decision of the Mayor." MOE also indicated that on Wednesday, September 9th a letter had been issued to Guerrero denying his request to give the holiday no matter the reasons he had made.
According to the Education Act Chapter 36 Revised Edition 2003 of the Subsidiary Laws of Belize under section 133 (2) "In addition to school vacation periods, Saturdays and Sundays and public holidays, the Chief Education Officer may approve up to a maximum of three days in any school year as non-school days, in the case of pre-school centers, primary schools and secondary schools or institutions. Approval for such non-school days may be granted upon request by the Managing Authority or for other reasons determined by the Chief Education Officer. A request for a non-school day shall be made in writing to the Chief Education Officer at least two weeks prior to the non-school day(s)." The law continues to state that if the holiday is not approved, any student or teacher that still observes it receives an absent in their attendance record.
The San Pedro Sun contacted Guerrero who stated that he would not respond to the incident.
Follow The San Pedro Sun News on Twitter, become a fan on Facebook. Stay updated via RSS