Financial Education Subsidies reduced for high school students
Thursday, July 2nd, 2020
The new school year at the secondary level will see parents/guardians paying a $100 extra for their children's education, after the government reduced the financial education subsidies to $200 instead of the usual $300. This modification in the high school subsidy program was announced via a virtual conference on June 8th by the Minister of Education, Honourable Patrick Faber, who explained that the cuts were triggered by the current global crisis caused by COVID-19.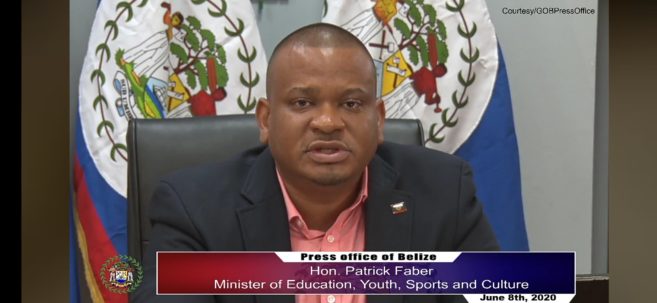 This position has not changed so far, and parents/guardians now have to content with finding an additional $100 to send their children to high school. According to Faber, the decision to reduce the subsidies was collective and challenging. "While it is difficult on all fronts to keep this program going, all in our Ministry and Cabinet agreed that the program must continue, however, we do need to make an adjustment, and so the program will now see all these students who are moving on, as I have outlined previously from primary to secondary school receive [only] $200," he said during the virtual conference. Faber added that such a cut in the subsidies would also apply to students moving on to second form.
Faber said that his Ministry regrets having to take this action, but it is the result of the budget constraints that they are experiencing. The Minister assured Belizeans, though, that once things get back to normal, adjustments will be made again to the subsidy program. "You have our fullest assurance as I was sure you get from my Cabinet colleagues that once things improve, we will do our best to reinstate the full value of this subsidy," said Faber. It is estimated that about 11,000 students will be starting high school this year.
Following this unprecedented global health crisis that has almost paralyzed the entire economic sector, individuals and organizations have come together to aid education. One such program is the newly created Bynum Academic Scholarship, helping single parents in Belize City, Caye Caulker and San Pedro Town. The scholarship will pay a school year's academic fee for students ages five through their senior year in high school.
To qualify for the scholarship, the parent must prove a financial need, and the child must have satisfactory grades. Applications for the assistance can be submitted via https://bit.ly/3eQiWwm, and the deadline to apply is August 8, 2020. The announcement of recipients will be on August 17, 2020.
Follow The San Pedro Sun News on Twitter, become a fan on Facebook. Stay updated via RSS