Toledo 6th Annual Cacao Festival Is Here!
Tuesday, April 24th, 2012
Toledo 6th Annual Cacao Festival Is Here!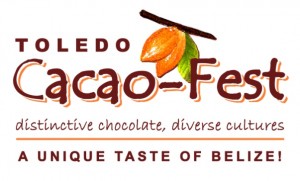 Belize City, Belize – April 24, 2012 – There is no substitute for clean fun with the convenience of activities centered in the heart of one of Belize's most cultured and historically rich districts – Toledo. Belizeans and visitors are invited to enjoy the unique cultural diversity that the Toledo District offers through the 6th Annual Toledo Cacao Festival being held this year from May 18th – 20th. This grand event is being organized by the Toledo Chocolate Growers Association (TCGA) and BTIA Toledo in conjunction with other partners.
The Toledo Cacao Festival was first celebrated in 2006 with the purpose of bringing together a diverse range of stakeholders from the community to showcase Toledo's history and culture. The stakeholders involved are comprised of cacao farmers, artisans, performers, restaurants, tourism and transportation providers among others. Roberto Coh from BTIA Toledo says, "The Festival raises funds for Punta Gorda's community projects that include assistance to chocolate farmers and the upgrading of schools and parks."
The Punta Gorda Cacao Festival starts on Friday, May 18th with a lecture on the completion of the Maya Calendar by Dr. Jaime Awe at 2:00 pm at the TCGA Conference Room. The lecture will be followed by a Wine and Chocolate Evening which will feature decadent chocolate creations from Belize's most recognized chocolate creators, as well as, live cultural performances. Saturday, May 19th will kick-off with a Street fest filled with diverse cultural booths. During the day, kids and adults can enjoy numerous activities like inland tours and children storytelling and painting sessions. Night entertainment will include a superb 'Open Air Street Concert' that will finish with a kaleidoscopic fireworks show. The festival's grand finale will be on Sunday, May 20th at the Lubaantun Maya site. Festival goers can enjoy of a colorful cultural fair which will showcase a number of performances – including the Deer Dance – and live Maya cultural music.
Tickets for the Toledo Cacao Festival are on sale at BTIA offices in Toledo and Belize City and at the BTB Office in Belize City.
For more information contact Armando Choco, Chair Person of the Cacao Festival Committee at [email protected] or Roberto Coh at [email protected].
# # #
Follow The San Pedro Sun News on Twitter, become a fan on Facebook. Stay updated via RSS