German reality series "Das Duell um die Welt" films in San Pedro
Saturday, July 21st, 2012
Residents would certainly have noticed a group of guys with video cameras and production equipment making their way through the streets of San Pedro on the 24th and 25th of May. They were a film crew from a German digital production company, Endemol, here on the island filming an episode of a new prime time reality series called "Joko gegen Klaas – Das Duell um die Welt" exclusively for German television network ProSeiben (Pro7).  In English the show is called "Joko vs. Klaas – The Battle for the World", and is a reality show that pins its two stars against one another in a series of challenges all over the globe. Hosts Joachim 'Joko' Winterscheidt and Klaas Heufer-Umlauf give each other a series of outrageous and tough challenges in countries all over the world; they know where they're going but have no idea what they will have to do until they get there. It is a travel game show and reality series where each host tries to push the other to their limits in an attempt to be crowned the "world champion" by taking on all the obstacles and coming out on top as the one who has won the battle for world domination. It is a high stakes truth or dare without the truth but a whole lot of dare!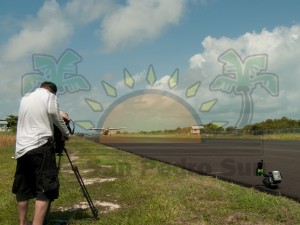 Shooting began at the John Greif Airstrip and Tropic Air Terminal in San Pedro where The San Pedro Sun caught up with them filming the arrival of Joko in Belize. It was Joko's turn to be challenged and Klaas sent him to Belize to find out what he had to do. The San Pedro Sun spent the day behind the scenes with the production team accompanying them around town as they took on the challenge, which included a surprise cameo of one of islands most famous faces… Coconut Leo! Joko arrived and to his surprise and bewilderment was handed a piece of paper with a picture of Leo and the single phrase "Suche diesen Mann!"… "Find this man!" which sent Joko on a crazy adventure all around town trying to figure out who this person is and how to find him. Joko spent hours around town searching and talking to unsuspecting bystanders trying to find where Coconut Leo lives. When he finally found Leo's home, Joko asked Leo to show him what he needed to do for his challenge. Leo then took Joko to show him what he does best… climb super tall coconut trees!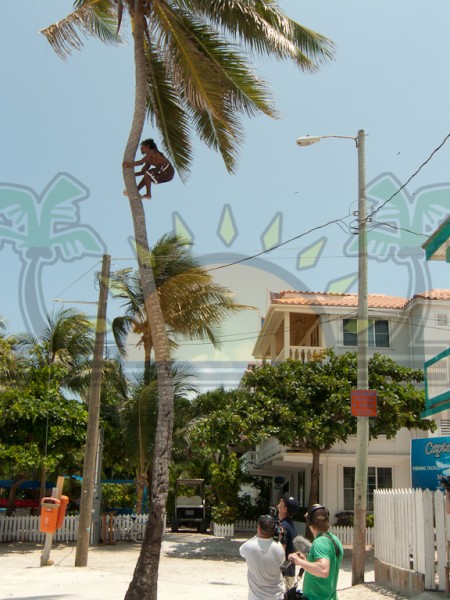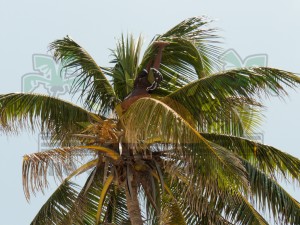 The crew filmed Leo performing his antics and death defying stunt dozens of feet in the air atop the towering trees on the beaches of Ambergris Caye. Joko and tons of spectators stood below watching in awe and disbelief as Coconut Leo executed stunts that could easily be a part of an act in Cirque du Soleil! Next up was husking coconuts blindfolded and cracking them open with his forehead! Leo could barely contain his excitement at being featured in the show, and his antics were proof of how much fun he was having. Joko, on the other hand, was trying to figure out just how he could gather his inner strength and mental stability to be able to break open a coconut with nothing but his bare hands and his head as a hammer! But he was willing to try… and just as he was about to send his head smashing into nature's cannon balls, Leo quickly stopped him to tell him that it was just a trick! He wasn't really supposed to crack a coconut with his head, but it was a test to see how far he would go, and Joko passed! His real test however was to tackle the traditional 'Greasy Pole', a very fitting challenge because Joko has a fear of heights!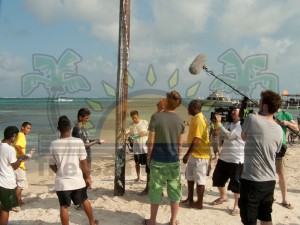 As the greasy pole was being erected, throngs of people gathered in the Central Park to find out what was going on and why the pole was going up on a day when nothing special was supposed to be happening. To their surprise they got to witness the Hon. Manuel Heredia, Mayor Daniel Guerrero and the San Pedro town council welcome the German film makers and star Joko Winterscheidt taking on his fear of heights on the beaches of San Pedro. On hand to demonstrate how it is done, were the winners on the September Celebrations Greasy Pole contest, The San Mateo Crew, who formed a human ladder before our very eyes to scale the slippery pole and retrieve the flag at the top. When asked, Director Thomas Martiens said that the show is "all about honor" and proving themselves to each other and the world, and said jokingly that if they didn't step up to the plate and do the challenge, the other contestant would be sure to make them pay for it with mockery and laughter and will have to suffer the embarrassment in front of the crowds.
Joachim 'Joko' Winterscheidt is best known from his work as a presenter for MTV in Europe. From 2008 – 2010 he was a host for The Dome and in 2009 – 2011 for MTV Home. Also in 2009 he founded the fashion label German Garment with actor Matthias Schweighofer, designer Kilian Kerner and music producer Sebastian Radlmeier.
Endemol is the largest independent digital production company in the world, producing over 10,000 hours of content for many different genres including reality TV, game shows, entertainment, comedy, drama, animations, sports, and feature films. Its productions include Fear Factor, Big Brother, Extreme Makeover: Home Edition, 1 vs. 100, Deal or No Deal, and Wheel of Fortune. The company is based in the Netherlands, with subsidiaries and joint ventures in 23 countries, including the United Kingdom, the United States, France, Mexico, Spain, Italy, Germany, Brazil, Chile, Argentina, Dominican Republic, Poland, Portugal, Russia, India, South Africa, Lebanon, Morocco, Philippines, Belgium, Turkey and Australia. It was founded in 1994 in Amsterdam, Netherlands and is named after founders Joop van den Ende & John de Mol.
ProSieben is a commercial German television station founded in 1989 and distributed via cable, satellite and digital video. It is available nationally in Germany as well as in Italy, Belgium, Luxembourg, Liechtenstein, and parts of Eastern Europe and has an estimated total of 5 – 7 million viewers.
Das Duell em die Welt will air on prime time for Pro7 in Germany on July 21st, 2012 and will feature Joko and Klaas riding on top of an airplane in England, climbing a glacier and taking part on the Eskimo Olympics in Alaska, wrestling with Alligators in Florida's everglades, fighting with luchadores in Mexico, dining with bush tribes in Ecuador, wheel chair rugby in Alabama and of course climbing the greasy pole in Belize, plus much more.
Photo Gallery
Please help support Local Journalism in Belize
For the first time in the history of the island's community newspaper, The San Pedro Sun is appealing to their thousands of readers to help support the paper during the COVID-19 pandemic. Since 1991 we have tirelessly provided vital local and national news. Now, more than ever, our community depends on us for trustworthy reporting, but our hard work comes with a cost. We need your support to keep delivering the news you rely on each and every day. Every reader contribution, however big or small, is so valuable. Please support us by making a contribution.
Click to Donate
Follow The San Pedro Sun News on Twitter, become a fan on Facebook. Stay updated via RSS