Introducing the Miss San Pedro 2012 contestants!
Thursday, August 2nd, 2012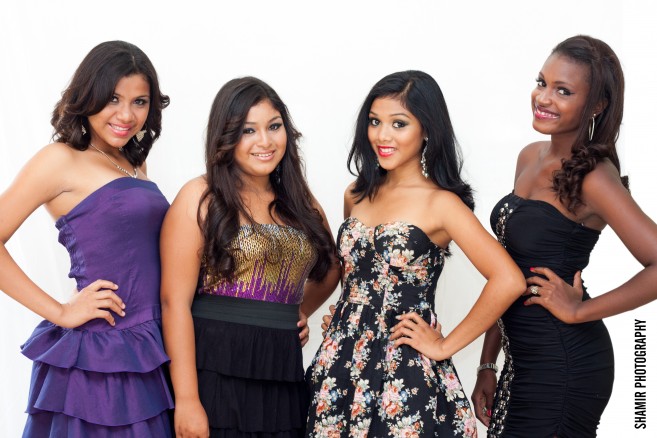 The San Pedro Town Council (SPTC) along with Miss San Pedro 2011-2012 Yakarelis Hernadez are both making final preparations for the 2012 Miss San Pedro Pageant. This year, four beautiful and talented young ladies will be vying for the coveted Miss San Pedro crown. The Miss San Pedro Pageant will take place on Saturday, September 1st at the Saca Chispas Football Field starting at 7PM under the theme "Beauty of today, reflecting the Maya splendor of yesterday."
The four young ladies vying for the Miss San Pedro title are Naiely Odalis Puc, Darcie Zepeda, Ashely Rhaburn and Adriana Haylock.
Miss Naiely Odalis Puc is a 16 year old 4th form student of San Pedro High School. "I believe that it is a great opportunity to meet interesting people. It would be an honor to represent Miss San Pedro because I want to be a great role model for the community," said Miss Naiely when asked why she wants to be Miss San Pedro.  Miss Naiely explained that she has great interest in nature and marine creatures and she also enjoys meeting new people from all walks of lives. Miss Naiely who is a business student wants to own her own business. She is being sponsored by Castillo's Hardware Store.
Miss Darcie Zepeda is a 15 years old and is a 3rd form student at San Pedro High School. "I want to participate in the Miss San Pedro Pageant to gain experience. I am a very shy person and I hope that if there is one thing I can gain from this is to stop being shy," said Miss Darcie. Darcie enjoys spending time with her family and friends and meeting new people. Miss Darcie wants to be a forensic scientist. She is being sponsored by Jaguar's Temple Night Club.
Miss Ashely Rhaburn is 17 years old and is a first form student at San Pedro High School.  "I want to follow my sister's footstep and participate in the pageant. I want to gain that experience of being Miss San Pedro and represent this beautiful town and I want to encourage other young ladies to participate in the pageant in the future," said Miss Ashely. She enjoys having fun with friends and looks forward to becoming a lawyer in the future. Miss Ashely is being sponsored by Victoria House.
Miss Adriana Haylock is 18 years old and is a graduate from the San Pedro High School and expects to attend the University of Belize. "I want to participate in the Miss San Pedro Pageant to show the youth of San Pedro that anything is possible and never give up on what you want to become in life,' said Miss Adriana.  She wants to become a business lawyer. Miss Adriana is being sponsored by Captain Shark's
On the night of the pageant, the young ladies will participate four segments which include costume completion, swim wear, evening wear and a final question and answer segment. The winner of the pageant becomes Miss San Pedro 2012-2013 and is crowned on the 10th of September. Ticket price for the pageant is $10 for adults and $5 for children. The SPTC will have more details in the days leading to the event.
Follow The San Pedro Sun News on Twitter, become a fan on Facebook. Stay updated via RSS