Miss Earth Belize 2012 – 2013 holds photo shoot in San Pedro
Friday, August 3rd, 2012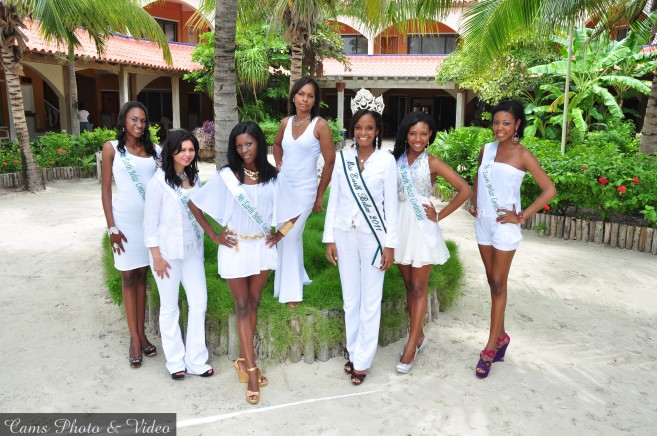 Belize International Pageants Ltd. presents the second ever, Miss Earth Belize. The pageant is scheduled for Saturday August 18th at the Bliss Center on August 18th, 2012 and will see five gorgeous young ladies vying for the very prestigious title.
The winner of the local pageant will receive the opportunity to travel internationally to represent Belize at the Miss Earth Pageant 2012. Last year the pageant was held in the Philippines.
The girls were on San Pedro over the weekend for a two day photo shoot hosted by the Sun Breeze Hotel where The San Pedro Sun caught up with some of the girls and founder.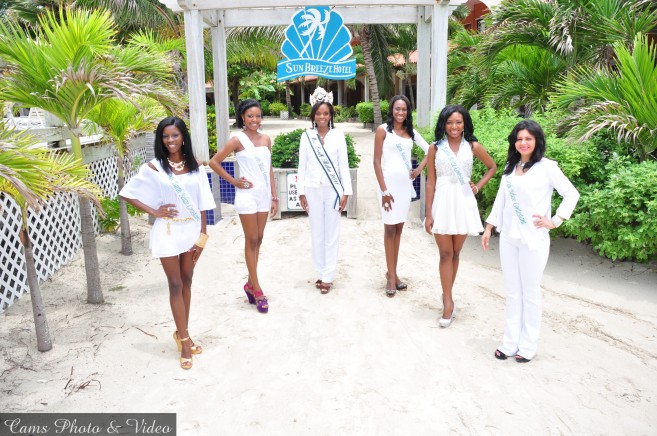 According to Darlene Campbell, founder of Miss Earth Belize and Founder and Director of Belize International Pageants Ltd, "Miss Earth is one of the three most coveted titles in the world beauty pageant arena and is devoted to a single most important cause, our ENVIRONMENT. The winner of Miss Earth Belize serves as a goodwill ambassador and spokesperson for Belize as well as its environmental and tourism industries". Vying for the 2012-2013 title of Miss Earth Belize are: Jessel Lauriano form Belize City, Shandalee Smith of Belize City, Katalina Jones from Roaring Creek, Claudia Lara of Ladyville, and Idolly Saldivar from Belmopan. The competition is opened to contestants from across the country.
Requirements to qualify to compete are as follows:
Must be single, never married, never given birth to a child.
Must be a minimum of 19 years of age and no older than 25 years of age by December 1st of competition year.
Have never been convicted of a felony crime.
Must possess a Belize passport
Must never have nor will she during her reign pose for any photography, video or film associated with nudity or pornography nor has she ever or is presently involve with any type of employment involving partial or full nudity.
Minimum height of 5 feet and 7 inches.
Speaking on her interest in becoming involved with the Miss Earth competition, Darlene commented, "This is the second year that Belize will be represented in the Miss Earth pageant. We like Miss Earth because it is a pageant with a purpose. You have to take care of the environment. The girls have to do tree planting and clean ups and visit schools to educate the younger kids about the environment, as we all know that's where it starts from." This year the girls and the international competition is concentration on the theme; "Sustainable Energy for All".
As Miss Earth, the young lady has the opportunity to travel internationally and compete as well as educate other countries of Belize. Miss Earth 2011 – 2012 Miss Kimberly Rabateau spoke a little of her experience; "After doing the Miss Earth pageant which was an overwhelming experience, the different experience I had, not only in my own country. Travelling to the Philippines to represent my country was a highlight of my reign as Miss Earth Belize. I was very proud to speak about all the natural habitats we have, and it was overwhelming – the interest that the people from all the different countries had in hearing what I had to say about my country. Most of the things I had to say – they didn't know so it was an incredible experience. I took much proud in saying I was a Belizean, speaking – almost bragging about what we have to offer. This was truly a one of a kind experience and I would encourage any young lady out there who would qualify to jump at that opportunity. And given the opportunity, I would say the all the contestants; number one is always be yourself with confidence, and always show how much you care about the environment. The most important thing though, is to be yourself – relax – don't be afraid to share with people what we have to offer because you will be very surprised at how they will be very interested in it. We are truly blessed here in Belize to have so much that other countries don't have.'
Kimberly as well as the other contestants spoke of the fact that we need the earth as much as it needs us. They encourage all to take care of the planet by caring for the plants and encouraged the reduction of all forms of pollution while promoting activities such as recycling.  Leading up to the pageant, the girls will take part in various clean up campaigns, such as the cleaning of the BTL Park in downtown Belize City on Tuesday July 31st where the delegates helped to beautify the park with the planting of oak trees. For more information on the pageant and Belize International Pageant visit their website and facebook, www.belizeinternationalpageant.com, Miss Earth, www.missearth.tv, or contact founder Darlene Clarke-Campbell  at email [email protected].
Miss Earth Belize 2012 would like to make special mention of sponsors: Body 2000, Dr. Arden Usher (Dentist), Sun Breeze Hotel, Belize Paradise Ltd., Bannister Island/catamaran, Young Automotive, Belargo Enterprise, Polo's Gulf Cart Rental, Barrow & Williams, Medina House of Jewelry, Rudy's Mini Hardware, Zion Sports Bar & Restaurant, Celebrity Restaurant, Creative Marketing, Elvis Kitchen, Wave Radio/TV. Special thanks to: Elmore Lamb, Mr. Roger Espejo, Barrow & Williams, Mr. Lindsay Garbutt, Mr. Martin Alegria from the Environmental Department, Belize Tourism Department, Minister of Finance, Mr. Dale McDougal, Mr. Dennis Perifytte, Mr. Luis Zapata, Mrs. Pamela Mckoy and Rafael Manzarero.                                 
Follow The San Pedro Sun News on Twitter, become a fan on Facebook. Stay updated via RSS