Verge of Umbra independently releases debut album "V.O.U."
Wednesday, February 10th, 2016
Belizean band Verge Of Umbra formally announces the release of their debut album, titled "V.O.U" on March 12th, 2016.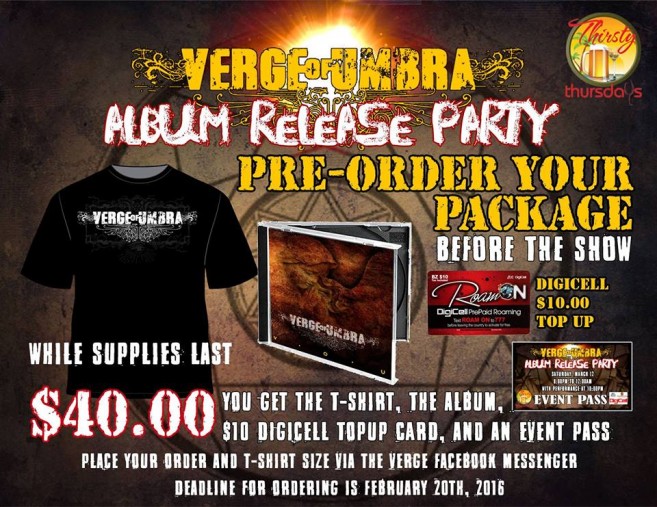 The grand launch party and live performance will be held at Thirsty Thursday's in Belize City. The album release is being done independently, and is now available on iTunes, Google Play and Amazon. Led by vocalists Nello Player, Jenko Veli, Lowell Gillet on Bass, Andres Pineda on Guitar and Faith Madubuko on drums, the group is made up of an eclectic mix of talented Belizean artists.
The talented group's album is a fusion of genres not necessarily unheard of, but positively charged and unique in its own way. Verge projects not only Reggae, Rap, and Metal, but also incorporates the Belizean dialect and jargon from two of Belize's well known artists, Nello Player and Jenko Veli as its front men/vocalists. This genre-twisting, mind-altering, dynamic hybrid is sure to set the masses on both a lyrical and musical blaze. Their sound is a homegrown style that nobody has ever done before; their lyrics and rhythm incite tyranny against conventional ideas, forcing you to ponder what you know, all while causing your head to involuntarily nod to the catchy beats.
"V.O.U." in an acronym with dual meanings: "Verge Of human's Upliftment" or the "Verge Of our Unraveling." It nods to our ascension into higher consciousness and peace, or descent into ignorance and war. It is this subject matter that is expounded upon in its lyrical content.
The album boasts three released singles and music videos.
Mixing and mastering was done artfully by Ramir Hernandez, a talented Belizean studying abroad at Oxford Sound and Audio Engineering Institute. The album was recorded at Poconobwy Productions' studio (Belize City) and the studios of Dale Wallace (San Pedro Town). Album promotion will be done independently, coupled with the continuation of their Central American Tour made possible by N.I.C.H.
For album copies, merchandise and tour information, check the band's Facebook Page!
Follow The San Pedro Sun News on Twitter, become a fan on Facebook. Stay updated via RSS