First Olive Ridley turtle tagged and released in Belize
Wednesday, August 10th, 2011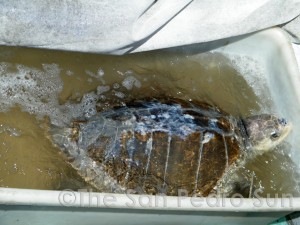 The Olive Ridley (OR) is a small sea turtle, with an adult shell length averaging 60 to 70 cm. It has a medium–sized, broad head that appears triangular. The OR turtles live in tropical and warm waters of the Pacific and Indian Oceans. There have been records of the OR in the Caribbean Sea as far north as Puerto Rico. These turtles are considered endangered because of their few remaining nesting sites in the world. National listings for this species range from endangered to threatened.
About four months ago, a member of this endangered species was discovered tangled and terribly injured, drifting at sea in the Hol Chan Marin Reserve area. Two of its flippers were damaged to the point where the unfortunate turtle was unable to swim or dive.
According to Linda Searle, Coordinator for the Belize Turtle Watch Project (BTWP), secretary for the Belize Sea Turtle Conservation Network (BSTCN) and one of the country's coordinators for WIDECAST, the Wider Caribbean Sea Turtle Conservation Network, this is very significant to Belize as this marks the first confirmation of an OR in Belize. "As you're probably aware, we have hawksbill, green turtles, logger heads and occasionally there's leather back turtles in Belize, but there's never been an Olive Ridley reported here in Belize. If you were to look at a distribution list of all Olive Ridley's in the Atlantic ocean and the Caribbean, you would see that they're actually found up to Cuba, but have never really been previously reported in the Yucatan – that this one is being found in Belize, is actually pretty significant," stated Searle.
The rangers were alerted and the turtle was transported to the Hol Chan office where it remained for a couple of weeks, while it received treatment for its wounds. After three weeks, it was taken north to Hol Chan's Bacalar Chico rehabilitation pen, where it remained until Monday, August 8th. According to Mr. Miguel Alamilla of Hol Chan, the turtle is completely rehabilitated and was strong enough to be set back into the open sea.
Instead of just releasing the turtle, for research purposes, the OR was tagged prior to its release. The tag was donated by Dr. Todd Rimkus from Marymount University, Arlington, Virginia, US and Satellite Tagging expert, Mr. Kevin Andrewin from the Gales Point Turtle Facility was on hand to apply the tag.
With the satellite tag, it will be possible to locate the turtle's location several times per day, the depth it will dive, how long it stays under and the temperature of the water. This marks the third turtle that Mr. Andrewin had tagged.
Mrs. Searle went on to explain, "The Belize Turtle Watch Program is trying to raise awareness on the need for further conservation of sea turtles. This year is the "Year of the Sea Turtle", so what we're trying to do is a sea turtle census, throughout the entire country of Belize. We are trying to get coastal property owners as well as resorts to monitor the beaches that are near their properties to let us know if they see any turtle nesting, as well as people that are in the water diving and snorkeling. We want everybody to report turtle sightings, especially turtles that are sighted on a regular basis." Searle went on to make a special appeal to whoever it was that found and took the injured turtle to the Hol Chan ranger to please contact her as they are in need of more information about the animal.
Individuals with information on turtle nesting or sighting, or wishing to volunteer with the BTWP are asked to contact the program through telephone numbers 223-3022 or 671-3483 or online at www.ecomarbelize.org and via email [email protected].
After the tag was applied to the turtle's shell, it was set to dry for approximately two hours, after which it was taken to Hol Chan Marine Reserve, where it was set free. Miguel Alamilla of Hol Chan would like to take this opportunity to inform the general public to report every sighting of sea turtles. "If you come across injured sea turtles, or even deceased sea turtles, please contact the Hol Chan office at 226-2247. If the turtles are dead, they are still very important, as we are able to perform autopsy to determine the cause of death. If turtles are injured, we have a facility where we can rehabilitate and release the turtles. It is important that all turtles be counted and recorded for the proper monitoring of sea turtles in San Pedro and across the country."
Photo Gallery
Follow The San Pedro Sun News on Twitter, become a fan on Facebook. Stay updated via RSS