Hol Chan and SPTGA place mooring buoys along the Reef
Friday, November 11th, 2011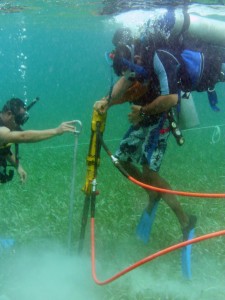 An ongoing project to place permanent mooring buoys along the reef in popular sites off the shores of Ambergris Caye continued this past week. Manager of Hol Chan Marine Reserve (HCMR) spoke with The San Pedro Sun. "Every year we have, in corroboration with the San Pedro Tour Guide Association (SPTGA), carried out this project of maintaining and installing new mooring buoys for use for tourism inside the Hol Chan Marine Reserve and other areas commonly used by tour guides and tour operators on the island".
The purpose of the project is to eventually eliminate the use of anchors in these popular diving and snorkeling site along the Belize Barrier Reef. This system uses mooring buoys which are permanent fixtures anchored onto the seafloor. The team selected popular re-creational sites, dive site, snorkeling sites where these bottom moorings are installed for use by tour guides and tour operators instead of anchors.
Funding for the project comes from various entities such as Coral Reef Alliance, local resorts hotels as well as Hol Chan. Maintenance of the buoys are don by tour guides and tour operates with the support from the fisheries department and Hol Chan. Mr Alamilla hopes that this project will reduce much damage to our already endangered Barrier Reef System which would be caused by anchoring vessels on and near these sites. In the past week, six mooring buoys were installed at Palmero's Point as well as six at the HCMR.
Photo Gallery
Follow The San Pedro Sun News on Twitter, become a fan on Facebook. Stay updated via RSS