ACES Croc Chronicles: NGO Status, Anthony Pine, Annual Report
Saturday, March 31st, 2012
Submitted by Cherie Chenot-Rose
Director/ACES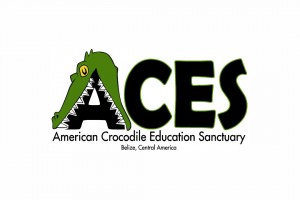 ACES Gets Grant for NGO Status
In March 2012, the American Crocodile Education Sanctuary (ACES) received a $600US grant from The Global Federation of Animal Sanctuaries and The Summerlee Foundation to obtain its official Non-Government Organization (NGO) status in Belize.
Currently ACES is registered and operates as a non-profit organization in Belize and tax-deductible donations are received through ACES USA 501(c)(3) partner, the Belize Economic & Ecological Development Fund. "Obtaining our NGO status in Belize will definitely increase our funding opportunities and we are grateful for the continued support from both granting agencies," stated Cherie Rose of ACES.
ACES Intern Anthony Pine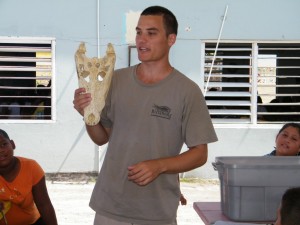 by Anthony Pine, Founder of the Tomistoma Fund
Thanks to places like ACES, I received the training and experience required for conservation programs needed for the highly endangered Tomistoma crocodiles that reside in Indonesia. While here on the island [Ambergris Caye], The Tomistoma Fund, Marty Casado of Ambergriscaye.com, Yvonne Temsik, Dov and Laura Magy helped provide funding for very fun presentations that I gave to many schools about the importance of science, conservation and crocodiles. They were not only fun but hopefully sparked a little imagination and inspiration into many of the young students! This educational program in San Pedro has really helped give my program an understanding for what might work to educate about crocodile conservation overseas in Indonesia.
On March 9th, while training with ACES I had the opportunity to take part in one of the most exceptional and heartfelt experiences in my life. That is the rescue of an unhealthy and injured 10.8 ft crocodile. That night, while I was learning the arts of snaring and how to safely restrain a crocodile, a large crocodile came out of a resort development to our parked cart on the side of the road. This crocodile was hungry and after snaring him, we found that to be one of the least of his problems. He was missing all of his teeth (indicating poor health), was grossly underweight, and had bullet wounds throughout his body. We were able to dislodge one bullet from just below his ear (near his brain) but unfortunately were unable to retrieve the bullets from the wounds on his right hind-limb. Overall, it was a very moving experience, to see a creature that had lived to be so large to be so close to death. I do hope he will be able to be rehabilitated, but I hesitate to think he will ever be able to survive in the wild. It is also apparent that there is no suitable room for the crocodile in ACES few holding enclosures on the island (due primarily to lack of funding to build the necessary enclosures), so if you do have the time, please check out the www.americancrocodilesanctuary.org or their Facebook page for ways you can show your support or to follow up with this crocodile's story.
Annual Report - ACES 2011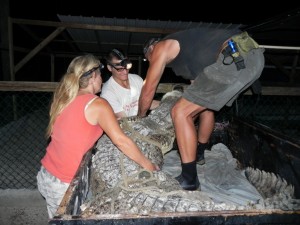 In 2011, ACES earned a total of $28,889US in grants and revenue, of which $8,269 was spent on the American crocodile population and habitat viability survey in Ambergris Caye; $12,691 was utilized to secure natural habitats at the Ladyville facility for the rescue of 22 freshwater Morelet's crocodiles from illegal and inhumane captivity; $6,759 was used to initiate a holding facility here on Ambergris Caye and to educate about crocodile conservation on the island; and finally, $4,120 was spent on crocodile rescues, which includes the expense of gas, bait and capture supplies. ACES responded to 61 crocodile calls; rehabilitated and re-released ten ill or injured crocodiles; relocated 27 nuisance crocodiles; captured nine problematic crocodiles, three of which were placed into captivity; and rescued 22 freshwater crocodiles from inhumane captivity. ACES full 2011 Annual Report is available online at AmericanCrocodileSanctuary.org/apps/documents. Thank you all for your support! - Cherie & Vince Rose
Photo Gallery
Follow The San Pedro Sun News on Twitter, become a fan on Facebook. Stay updated via RSS