Belize Shark Project starts tagging project off of Ambergris Caye and Caye Caulker
Thursday, January 24th, 2013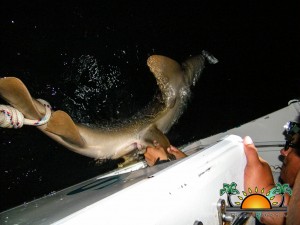 It is believed that sharks contribute to $4 million annually to the Belizean economy through tourism related activities. These activities are primarily concentrated to diving and snorkeling in the Hol Chan Marine Reserve, Shark Ray Alley, Blue Hole, Halfmoon Caye, Gladden Spit and Silk Caye Marine Reserve. However not much is known about the shark population, their aggregation sites, their behavior in Belizean waters and most importantly what some of their spawning sites are. For that reason the Wildlife Conservation Society, spearheaded by Dr. Rachel Graham through the Belize Shark Project (BSP) is moving full force in promoting the management and conservation of sharks and rays in Belize through ongoing long term research and as such are currently tagging sharks off the coast of Caye Caulker and Ambergris Caye.
According to Graham, who is a well respected and experienced marine biologist, the Belize Shark Project is an ongoing, long term project specially geared to study and learn more about sharks in Belize. Speaking with The San Pedro Sun Graham explained that the populations of shark and rays worldwide are under increasing pressure and in Belize it is no exception, widely attributed to unsustainable fisheries. Moreover, globally the numbers are declining because of bad fishing practices. Shark fining in the Asian market is a problem in the region since fishermen are fining (and ultimately killing) sharks to accommodate the high paying demand. Closer to home, sharks, according to Graham, are becoming scarcer and are not in abundance as they once were which can be attributed to fishing habits and even the transformation of critical habitat.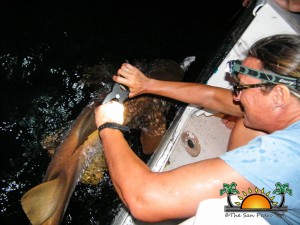 "The project started in 2006 with the first large scale survey of sharks and rays in southern Belize and that expanded to working in Light House Reef Atoll in 2007 and then most recently in 2012 we just completed a first assessment of sharks and rays in northern Belize… bit by bits we are piecing together what is the status of sharks and rays throughout the country of Belize. By using standardize methods in our catching techniques, in our observation techniques; we just don't catch, tag and release sharks but we also get in the water. We do underwater transects or we use baited remote underwater videos and get an idea of what is going on with the population," said Graham who added that by doing so it will help determine a number of things. The information collected will assist the Belize Shark Project in gathering critical information that helps guide them in proposing policy papers that are instrumental in the decision making process in the work of protecting the ocean and its marine life. "We are trying to figure out what the diversity of species might be and also what are their habitat preferences. By using specialized tags, like acoustic and satellite tags we can get a better handle on what their environmental and seasonal condition might be," said the marine biologist.
For the time being the group, consisting mainly of volunteers, has begun tagging sharks off of Ambergris Caye and Caye Caulker. "Sharks and rays are worth millions of dollars to the Belizean tourism and there is no better place to see sharks and rays than on Ambergris Caye either at the Hol Chan Marine Reserve or Shark Ray Alley or on trips that go from here to the Blue Hole. One of the things we want to find out, besides trying to find out what type of sharks and rays we have here, we want to know if protected areas are contributing to the conservation of sharks and rays. We want to know if we are finding more of them around the marine protected areas," explained Graham who said that so far research is showing that they are not seeing that much of the species as expected highly contributed to the mobility of the specie that is being studied. She also said that there is the need for more enforcement of the law since there is still "fairly extensive net use in the area" which contributes to population decline. It is also important, say Graham to know how many nurse sharks are coming to the feeding aggregation in the protected area. "How many Nurse Sharks, how many stingrays, how much male and female and what are the demographic parameters of the population using that feeding aggregation. In is important to know how many sharks is actually key to that feeding aggregation and how much visitation are they getting. Is it just three sharks that are getting all the attention or is it well diversified between 15? One of the things that people notice is that during certain times of the year they just disappear. The question is where do they go? So we want to get more people involved in observing these sharks," detailed Graham from her San Pedro based home.
So far the Caribbean Reef Sharks and a large number of Nurse Sharks have been tagged near the two islands. One female Bull Shark was also caught near Tuffy Channel off Ambergris Caye, however because of extreme weather; it made it difficult for the team to place a satellite tag on the creature. Graham is hoping that through the project, they will be able to tag Silky, Bull and Hammer-Head sharks, and if possible a Tiger shark since they are critical to the reef system and more importantly because their numbers are beginning to dwindle.
When capturing the sharks for tagging, the group lead by Graham, local guides and boat captains from within the area identify key areas along the reef, place fresh bait along long-line fixed to buoys and then wait for the shark to bite. Once caught, the sharks are pulled to the edge of the vessel, measured and examined for gender identification after which it is then tagged on the dorsal fin and then quickly released. The whole process usually lasts between seven to ten minutes to reduce stress on the shark. For the time being, Nurse Sharks and Caribbean Reef Sharks are being tagged with an orange in color conventional tag which has a clearly visible large number on one side of the tag and other useful information on the other side that help when sighted. When Silky, Bull, Hammer-head and Tiger sharks are caught, a satellite smart-position tag (SPOT) will also be placed on the dorsal fin. The SPOT satellite tag transmits critical information via satellite once every time the shark emerges to the surface.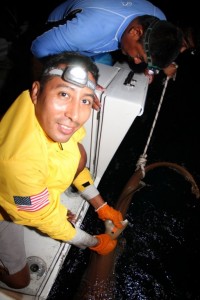 Tour guides and tour operators can assist the Belize Reef Project by reporting the citing of tagged sharks to help create a data base for each shark. It is important for those who report a citing to get the tag number on the dorsal fin if possible, note where they saw the shark, when they saw the shark, what they saw and any additional information that can assist to study the behavior of these important sea creatures. To report sightings you can email the information to [email protected] or send a text or call 600-5899.
The San Pedro Sun's Jorge Aldana was invited by Dr Graham to witness the launching of the initiative off Ambergris Caye on the evening of Tuesday, January 15th where he also had the opportunity to assist the crew in tagging sharks. A healthy male Nurse Shark measuring 204CM (6.69ft) and tagged as number 103 was officially named "Jorge" after the senior staff reporter who has a passion for environmental reporting.
It is believed that the Belize Barrier Reef, lagoon, deep-water zones and even coastal water are home to at least 42 species of sharks and rays, all playing a very critical role to the marine ecosystem. Sharks and rays are mid-level (apex) predators that are at or near the top of the food chain, playing a critical role in structuring fish communities and fostering reef resilience. Biologists consider sharks and rays indicators of fishing pressure along functional ecosystem and help to determine the overall health of the ecosystem.
Photo Gallery
Please help support Local Journalism in Belize
For the first time in the history of the island's community newspaper, The San Pedro Sun is appealing to their thousands of readers to help support the paper during the COVID-19 pandemic. Since 1991 we have tirelessly provided vital local and national news. Now, more than ever, our community depends on us for trustworthy reporting, but our hard work comes with a cost. We need your support to keep delivering the news you rely on each and every day. Every reader contribution, however big or small, is so valuable. Please support us by making a contribution.
Click to Donate
Follow The San Pedro Sun News on Twitter, become a fan on Facebook. Stay updated via RSS