Belizeans receive Oil Spill Preparedness and Response Training
Thursday, December 18th, 2014
The Belize Department of Environment (DOE) hosted a three day Oil Spill Pollution Preparedness, Response and Cooperation (OPRC) training seminar for dealing with offshore and onshore oil spills. Belize's Barrier Reef and other marine ecosystems are the country's top tourism attractions, and as such, DOE believes it is necessary to take extra precautions to protect these environments from all major threats, including oil spills. The training was held from Tuesday, December 9th to Thursday, December 11th at the Best Western Belize Biltmore Plaza in Belize City and saw participants from across the country, including members of marine conservation groups.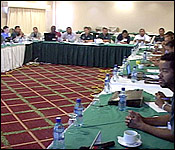 The OPRC training was a collaboration between DOE, Ministry of Forestry, Fisheries, and Sustainable Development, the International Maritime Organization (IMO), the United Nations Regional Coordinating Unit for the Caribbean Environment Program, and the Regional Activity Centre / Regional Marine Pollution Emergency Information and Training Centre for the Wider Caribbean Region. According to DOE's Senior Environmental Officer, Maxine Monsanto, the training is aimed at improving Belize's capacity to deal with emergency oil spills as a means to prevent a more disastrous situation. "At the end of the training, participants are able to provide basic techniques for oil spill response and how to clean up oil along the shorelines for first responders. They can also provide tactics and organizational skills to on-scene commanders for supervising oil spill response. The overall objective for the three days is to have a more effectively trained personnel, who can coordinate and respond in a timely manner to an oil spill event," said Monsanto.
The training was led by Claudine Tiercelin and Dr. Elliott Taylor, principal of Polaris Applied Sciences and oceanographer and consultant of IMO. Both instructors outlined the key areas in which Belize must be well prepared in order to successfully combat an oil spill. "We looked at many different aspects of preparedness and emergency response, starting out with oil and oil properties, what happens with oil when its spills, and how it changes. We also looked at containment strategies; how to contain it, whether it's on land or in rivers, streams or offshore. Sometimes, if you can't contain an oil spill successfully, you should apply other strategies such as dispersant or in situ burning," said Doctor Taylor. On the final day of the work training, participants were taken out on the field for hand on training.
In the case of an oil spill, residents are urged to immediately contact relevant authorities in the area to assist in the cleanup.
Follow The San Pedro Sun News on Twitter, become a fan on Facebook. Stay updated via RSS