San Mateo residents object to using fire refuse as landfill
Saturday, July 9th, 2016
After San Pedro's big fire on Sunday, June 26th, The San Pedro Town Council (SPTC) and numerous volunteers did a marvelous job of cleaning up the debris. In less than a week, the remains of the fire had been completely cleared out. However, shortly after, residents of the San Mateo community began complaining that the fire debris had been dumped in their neighborhood.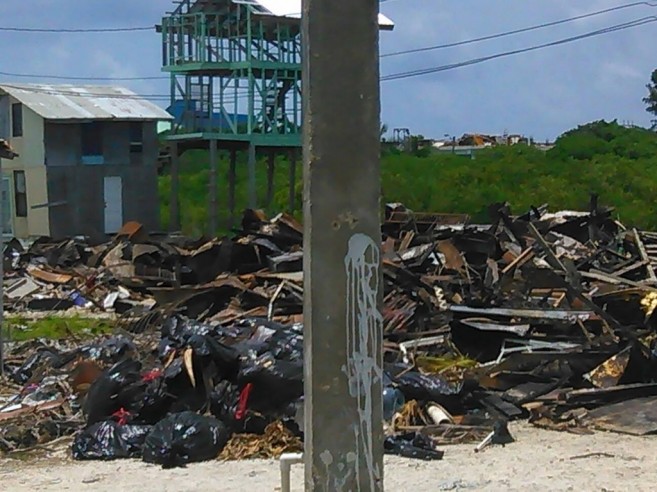 According to the Department of Environment (DOE), the improper dumping of garbage is unacceptable throughout the country. "We are not fully aware of the matter, but in general, we don't encourage or promote improper disposal of garbage, especially since the DOE does not know what kind of chemicals were released into the air. Chemicals can pose a safety hazard, and affect the environment. In the case of using this debris as landfill, it poses the risk to pollute the water," said Environmental Officer of the DOE, Celi Cho.
Since the SPTC regulates the disposal of garbage in San Pedro, The San Pedro Sun contacted Mayor Daniel Guerrero to get his insight on the matter. Mayor Guerrero stated that although the trash is a concern for the residents, there is a purpose for the garbage being there. According to the Mayor, San Pedro does not have a barge to transport the debris off the island, so the SPTC is utilizing the trash to compact roads and build new streets in the area. This is despite DOE's concerns over the health risks such a move poses.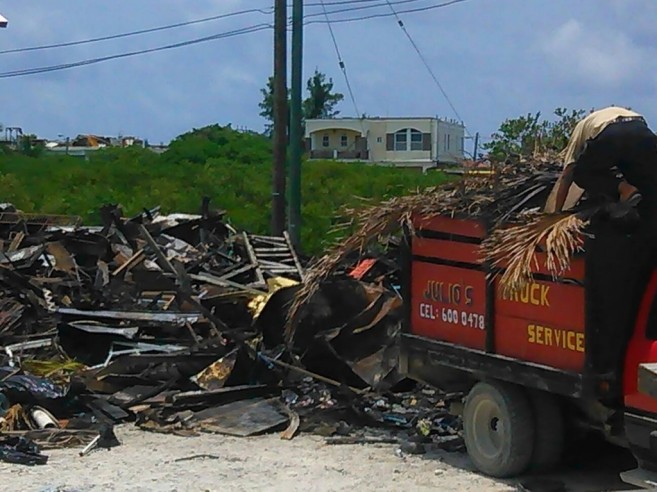 "It's an old method San Pedro has been using, and I am aware that this is not the best option. I do understand the concern of the people, but it was not done intentionally or because it is San Mateo. We are trying to help San Mateo by opening roads, allowing Belize Electricity Limited to put in electricity, and have the neighborhood lighted. We are trying to do our best, and asking for patience. When they see what we are doing, they will be extremely happy," said Mayor Guerrero.
With no knowledge of the toxicity levels of the debris, or any public consultation, the SPTC plans to send their bulldozer to San Mateo to bury the trash, and compact the streets on Monday, July 11th. After that task is completed, they will proceed to place stones, and white marl on top to make the road more accessible.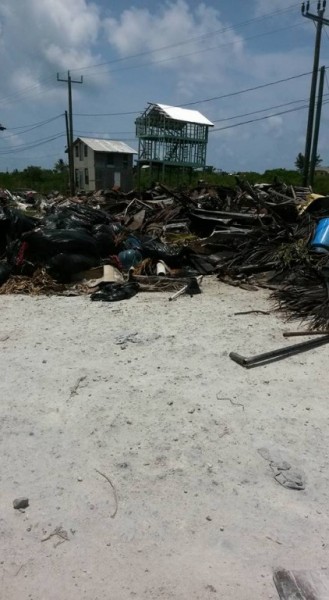 "There's a lot of complaints about garbage on the island. Our main concern is the lack of equipment. San Pedro is large, and we collect garbage from way down south to north as far as Las Terrazas. We have our downfalls with trash, but that is due to requirement failure. Our trash compactor had mechanical issues, and was sent to Spanish Lookout to be fixed, but we hope to overcome the excessive trash on the island," said Mayor Guerrero.
In addition, Mayor Guerrero confirmed that he hired a new person that will alleviate the on-going trash issue in San Pedro, as well to come up with sustainable ideas that will improve the sanitation of the island. Also, the SPTC is looking to invest in buying two additional trash compactors, and one dump truck.
The DOE has indicated that it is taking action by working alongside Solid Waste Management to have a set of inspectors to evaluate the site before taking further action. If you have any complaints, the DOE states that you are rightfully permitted to file a report by calling 822-2542 or emailing [email protected]
Follow The San Pedro Sun News on Twitter, become a fan on Facebook. Stay updated via RSS