Sperm Whale calf dies shortly after rescue off north Ambergris Caye coast
Monday, July 27th, 2020
The new-born Sperm Whale rescued near the beach in northern Ambergris Caye on Friday, July 24th, died after apparently being unable to locate her mother in the open sea. The calf had been assisted by a team of biologists, local and international veterinarians, tour guides, tour operators, and members of the Belize Stranding Network to reunite it with her mother, but all attempts were unsuccessful as it is believed the pod (group of whales) had moved on.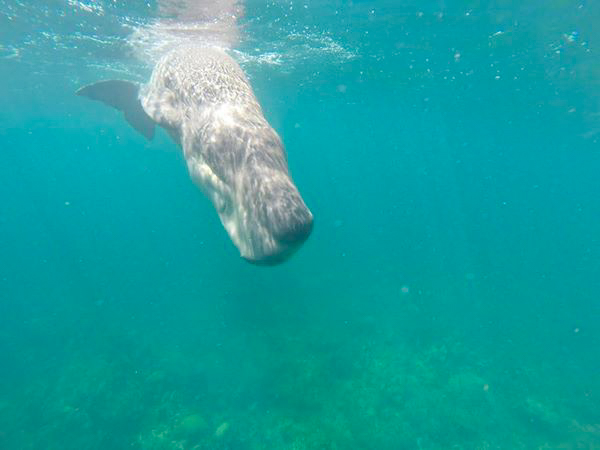 Following its discovery by local residents Cesar Hernandez, Emmanuel Garcia and Thomas Ack, personnel from the Hol Chan Marine Reserve (HCMR) rendered assistance and the young mammal was guided into the open sea where it could find its mother. But according to HCMR, they were informed that late on Friday, the calf returned to the shore. Despite surviving the night, the whale calf didn't make it by the time a team was dispatched the following day to its location.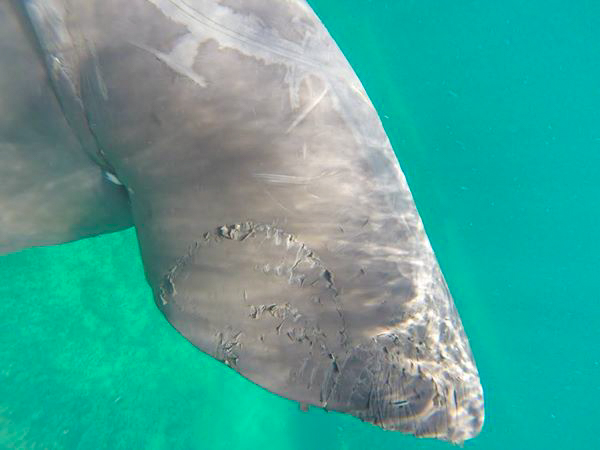 It is believed that the baby was unable to find her mother. Sperm Whales do not inhabit Belizean waters, and whenever they are sighted they are just in transit. Biologists are still trying to understand how the mother and the calf became separated. One hypothesis is that the calf may have been sick and could not keep up with the group of whales moving south or north in the outer sea. It was observed that when the baby whale was spotted on Friday it kept leaning on one side, suggesting that perhaps it was sick. A mark from a shark bite was also visible near its tail.
Whales are a protected species in Belize
The loss of this amazing creature is not considered in vain, as its bones can be used to inspire youth through education and outreach programs at HCMR. Under the Fisheries Act, 2020 whales are fully protected in Belize. All sightings should be reported to the Belize Fisheries Department. On Ambergris Caye, reports can be made by calling Hol Chan at 226-2247.
Hol Chan thanks all the persons who showed concern through their Facebook page, and made recommendations. They wish the outcome would have been different, but are comforted to know that all persons involved did all they could.
A BIG thank you goes out to Jamal Galves, Program Director for the Clearwater Marine Aquarium Research Institute and the veterinarians from Clearwater who answered the many questions and were willing to provide all the advice and support needed. Philip 'Billy' Leslie, Rickilee Response and Rescue team, San Pedro Tourist Guide Association, Michael Cain, Canary Cove, Blue Heaven Dive Shop, Steve Bowen, Ingrid Lima, and Saga Humane Society are all thanked for their generous support.
Follow The San Pedro Sun News on Twitter, become a fan on Facebook. Stay updated via RSS