New-born Sperm Whale rescued in northern Ambergris Caye
Friday, July 24th, 2020
On the morning of Friday, July 24th, North Ambergris Caye residents Cesar Hernandez, Emmanuel Garcia, and Thomas Ack discovered what appeared to be a new-born Sperm Whale near the beach. They assisted the calf in getting back to deeper waters, while personnel from the Hol Chan Marine Reserve (HCMR) headed to the area to render assistance.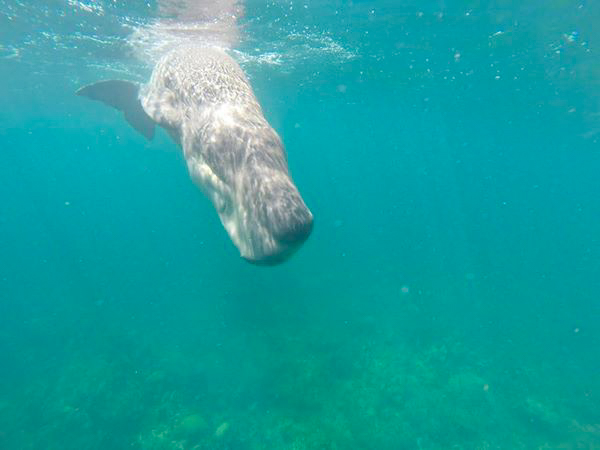 It is known that from the time of birth, Sperm Whale calves need their mother to protect them from predators. According to a statement by HCMR, the whale was very recently birthed as the remnants of the umbilical cord were still visible. Baby sperm whales stay with their mother and nurse for over a year. In the case of this whale, it somehow got separated from its mother.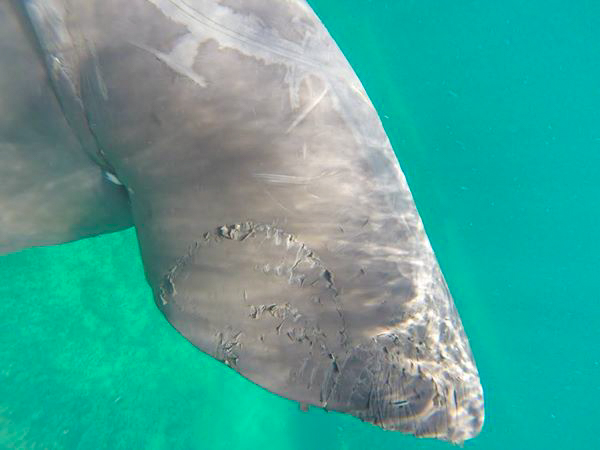 A mark from a shark bite was visible near the tail, and it is suspected that this may have led to the mother and calf getting separated. The chance of this sperm whale calf surviving without its mother is very slim. Calves feed on their mother's milk and also need their mother's protection. There is no facility in Belize that would be able to care for a whale, even as a new-born.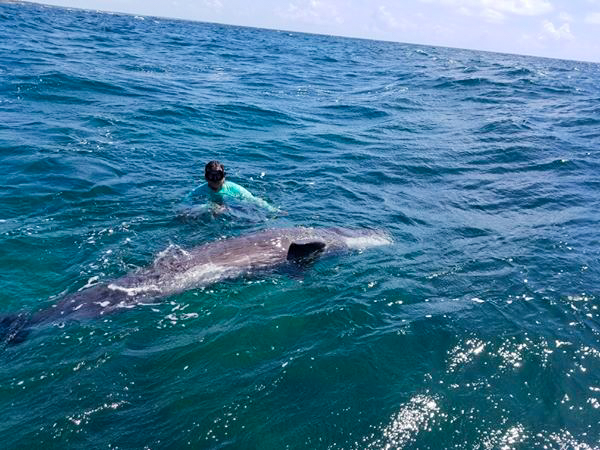 The hope is that by guiding it outside the reef it would be able to use its form of communication to reach out to its mother and be reunited.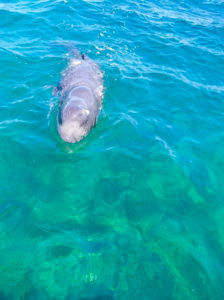 The number of sperm whales globally is estimated to be at around 300,000. They are the largest of the toothed whales with the widest distribution within the marine mammal species. They are found in all deep oceans, from the equator to the edge of the packed ice in the Arctic. Although they are seldom observed near the Caribbean, they prefer ice-free waters over 3,300 feet deep, where they feed on deep-sea cephalopods (octopuses) including giant squids.
HCMR would like to say a BIG thank you to Hernandez, Garcia and Ack, who are really the heroes by reporting and doing all they could to assist the baby sperm whale. Thanks also go out to islander and former head of HCMR Miguel Alamilla, who came out to assist the HCMR team. Others involved include Jamal Galves, Program Director of Clearwater Marine Aquarium and Research Institute for his guidance and liaising with veterinarians on how to handle the situation.
Islanders are reminded that reports can be made to Hol Chan through their 24-hour hotline number 614-3625.
Follow The San Pedro Sun News on Twitter, become a fan on Facebook. Stay updated via RSS