Update on the Food Assistance Programme
Thursday, September 17th, 2020
The Ministry of Human Development, Social Transformation and Poverty Alleviation continues to support families affected by the COVID-19 pandemic, including through the COVID-19 Food Assistance Programme.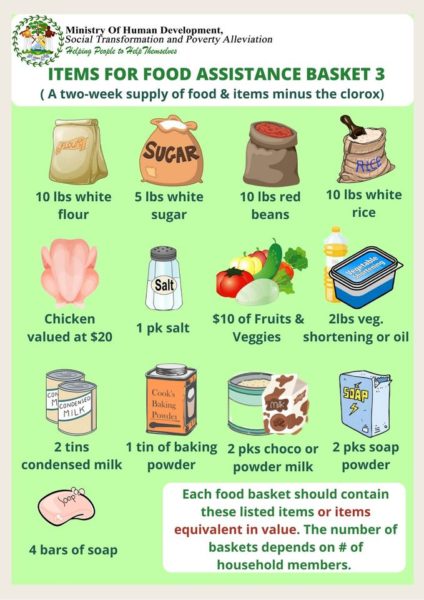 Since April 11, 2020, the Ministry has assessed over 100,000 applications. Applications were received through the Ministry's Facebook page, call center, walk-ins to the district offices countrywide, and field visits to remote villages in Toledo, Orange Walk and Cayo districts. Families are deemed eligible for food assistance if they are not receiving any other benefit from Government such as unemployment relief, BOOST, or regular Food Pantry.
Thus far, 39,129 households have been assisted countrywide with up to four food baskets. During the most recent lockdown period, 6,116 households in San Pedro and the affected villages in the Orange Walk District received food packages.
The food packages are delivered through a network of over 200 shops that extend to the rural areas countrywide. This network has proven to be an effective and cost-efficient modality for delivering the over 150,000 food baskets countrywide, while creating economic stimulation and employment at the local level.
The Ministry is also collaborating with the Ministry of Health to provide food assistance to quarantined families who are in need. The Ministry is aware that as the pandemic continues to impact Belize, more families may be in need of support. Persons who have not yet applied to the Food Assistance Programme and need help can call or visit the Department of Human Services office in Belize City and the Ministry of Human Development offices in the other districts.
Follow The San Pedro Sun News on Twitter, become a fan on Facebook. Stay updated via RSS