Glenford Cadle Jr. leaves for surgery in the USA
Wednesday, May 23rd, 2012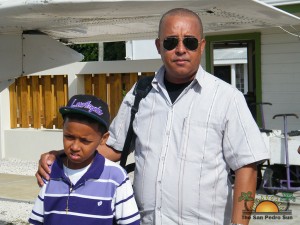 Glenford Cadle Jr., an eleven year old student of San Pedro Roman Catholic School and a resident of San Pedro Town, left for Virginia, USA for a life saving surgery. As The San Pedro Sun reported in an article published in the Volume 22 issue 10 dated March 8th 2012, Glenford was diagnosed with a rare congenital kidney malfunction which compromised his health. After the family pooled resources together with community support, the young boy finally left for the much needed surgery along with his dad on May 23rd.
According to the father of the child, Glenford Cadle Sr. his son will be undergoing a series of examinations in preparation for the surgery which will be performed at a hospital in Virginia under the World Pediatric Association of America. "He has seen deterioration in his health. His condition has deteriorated between 30 to 40 percent.  Currently, one of his kidneys has a very bad infection," said Cradle Sr. The condition of the child is known as "Horseshoe kidney."  In this disorder, two distinct functioning kidneys on each side of the midline in the body is connected at the lower poles by an isthmus of functioning renal fibrous tissue that crosses the midline of the body to form a horseshoe-shape which occur during development in the womb. The condition went undetected until the child's health began deteriorating early this year. Glendford's condition has led to serious kidney malfunction that has now caused severe urinary tract infection.
Horseshoe kidney affects one in every 500 people worldwide and as common as it is, surgical procedures cannot be performed in Belize. Now that Glenford has been given the opportunity to access the medical attention he needs, it is the hope of the family that once the surgical procedure is conducted, Glenford could live a normal life. Glendford is scheduled to undergo a series of medical examinations starting on Friday, May 25th, after which a team of doctors will determine the best course of action.
The child has been under heavy medication for a few months until the finances could have been secured. Lucky for the family, a Canadian couple residing at the Belize Yatch Club read of the child's condition in The San Pedro Sun an offered to pay for the child's airfare to have him operated in the USA.  Just before leaving to the USA, the family took the opportunity to thank all those people and businesses that are assisting in giving Glenford a second opportunity to live a normal life and is asking the community to keep Glenford in prayers.
Follow The San Pedro Sun News on Twitter, become a fan on Facebook. Stay updated via RSS