Elijah Alamilla is back in San Pedro after lifesaving open heart surgery
Saturday, September 1st, 2012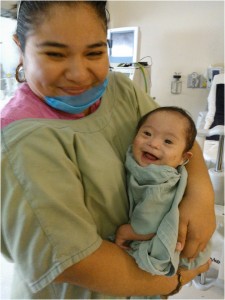 The San Pedro Sun is happy to report that baby Elijah James Alamilla is back on Ambergris Caye after undergoing a lifesaving surgery. Elijah was born with Down syndrome, and was diagnosed with a heart condition that required open heart surgery to save his life. The surgery was conducted at the Clinica Regional de Altas Especialidades in Merida City, Mexico on June 3rd. After more than two months in recovery Elijah is finally back at home with his family and doing well.
Dalia Alamilla, Elijah's mother, arrived in San Pedro on Thursday, August 23rd from Merida City with her son. "Elijah needed an open heart surgery that could not be performed in Belize. Being a child with Down syndrome, this made his chances of survival even lower. We were at the KHMH (Karl Heusner Memorial Hospital) and they told us that there was nothing they could do for him. When we went to the Clinica Caranza in Chetumal, Mexico they told us the same thing. [Then] like a miracle, we met a doctor [who] encouraged us to take my baby to Merida. When we reached there we met with a cardiologist and he gave us the opportunity to go to the Clinica Regional de Altas Especialidades which is a government hospital," explained Alamilla to The San Pedro Sun shortly after touching down on Ambergris Caye. "Thanks to the help we got from the residents of San Pedro we were able get one of only three beds in the intensive care unit."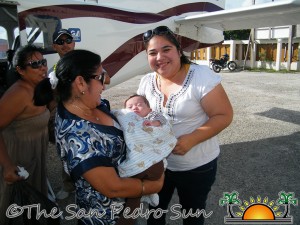 During his two months stay at the hospital, Elijah underwent two lifesaving surgeries, the first was an open heart procedure and the second one was as a result of a complication during the first surgery.
Of the three children who underwent a similar open heart surgery, Elijah was the only one who survived. For Dalia, her sons' successful surgery is a miracle. "I saw mothers crying after losing their babies. God spared Elijah's life and he survived. Thank God Elijah made it."
"I just want to tell the community of San Pedro that I am grateful for their support. I want to encourage the island residents to keep helping people who are in need. Today was my turn to need a helping hand but tomorrow could be your turn. Let's keep being the community we are. At the end of the day God helps us because we are a community that knows to unite," said an emotional and grateful Dalia. The Alamilla family took the opportunity to thank the entire community of San Pedro who contributed in making Elijah's surgery a success. The Alamillas also thanked the specialists at the Clinica Regional de Altas Especialidades and those that donated, supported and had the family in prayers. They thanked the press for promoting fundraisers, the elected officials in San Pedro and both political parties who contributed financially.
Elijah is now at home recuperating, surrounded by his loving family, and doing well. He will require a follow-up check up in Merida as doctors monitor his health progress.
Follow The San Pedro Sun News on Twitter, become a fan on Facebook. Stay updated via RSS