Bandage International works alongside Red Cross to offer Medical Safety Program
Friday, November 16th, 2012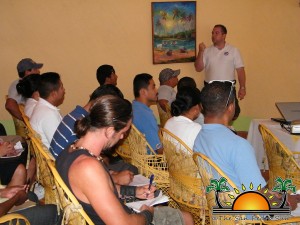 The Belize Red Cross, in conjunction with Bandage International and the San Pedro chapter of the Belize Red Cross, held their annual Medical Emergency First Aid Course in San Pedro on November 14th and 15th. The workshop was held at the El Divino restaurant and saw the participation of some (40) participants from various businesses on the island. Registration for the sessions were $50.00 for the two day course, after which participants would be certified as Emergency First Responders.
The training prepared participants to handle medical emergencies that include heart attacks, asthma, stroke, diabetes, seizures, allergic reactions and child delivery. According to organizers, at the end of the training, participants should be able to recognize and treat injuries such as: head and spinal injuries, chest and abdominal injuries, extremity injuries and soft tissue injuries, shock and bleeding and burns. The team will also be versed in bandaging and splinting as well as informed in the new CPR and Airway Obstruction Guidelines.
President of Bandage International (a Canadian team of Volunteer Medics) and long time group volunteer Darryl Chickness spoke with The San Pedro Sun; "We are a group of volunteers with the main objective to teach certified first aid in Belize. During this course we will be trying to emphasize how to deal with day to day emergencies. We're trying to focus on common first aid problems that could arise here in San Pedro or even on the mainland in Belize."

Repeat participant in the program, Adolfo Coi enlightened us of an experience he had just last year immediately following a similar training and how the training prepared him to deal with a very serious emergency. "The trainings are wonderful experiences. Last year we had a similar course that I took. And the day after the course finished, a child was drowning in the area of my patrol and because of my training, I was able to save his life. This little child who could have died, is now living in Orange Walk. And it is all because of what I learned at the training."
What advice does Chickness give to individuals in an emergency that may not be trained to handle the situation? "Stay Calm – identify who CAN help and get the assistance needed – if you don't have any formal training and keep control of the scene."
Organizers wish to offer special thanks to: Bandage International for their continuous partnership with the Belize Red Cross, Mrs. Winnie Parchue, National First Aid Instructor of the BRC, to the Management of El Divino Restaurant and to all businesses and individuals who attended the call for a safer Belize. Bandage international would like to thank the following businesses that helped make their trip to Belize possible: Coral House Inn Punta Gorda Roberts Grove Resort, Placencia, El Divino Restaurant, Victoria House Resort, Maya Island Air, Boaz Golf Cart Rentals, Ultimate Rentals, all located in San Pedro.
This course is not limited to businesses any individual who would like to participate in next year's trainings may be so by contacting the Belize Red Cross branch nearest you or Headquarters at Tel: (501)-227-3319. You can also email Winnie Parchue at [email protected] or Laurie Norton at [email protected].
Follow The San Pedro Sun News on Twitter, become a fan on Facebook. Stay updated via RSS