11 countries in Latin America and the Caribbean have reduced maternal mortality, new UN data show
Tuesday, May 6th, 2014
Washington, D.C., 6 May 2014 (PAHO/WHO) – A new United Nations report shows that 11 countries in Latin America and the Caribbean have made significant progress in reducing deaths from pregnancy-related causes since 1990. However no country in the region is on track to meet the Millennium Development Goal (MDG) of reducing maternal mortality 75% by 2015.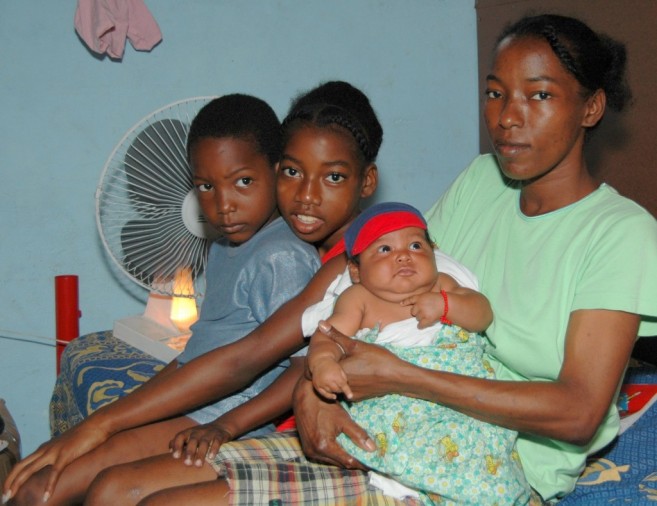 The 11 countries that significantly reduced maternal mortality (MMR down 40% or more since 1990) are Barbados, Bolivia, Brazil, the Dominican Republic, Ecuador, El Salvador, Guatemala, Haiti, Honduras, Nicaragua, and Peru. Despite this progress, an estimated 9,300 women lost their lives in Latin America and the Caribbean due to pregnancy-related causes in 2013 (down from 17,000 maternal deaths in 1990).
The new report, Trends in maternal mortality estimates 1990 to 2013, estimates changes in maternal mortality worldwide and by region and country. It was produced jointly by the World Health Organization (WHO), UNICEF, the United Nations Population Fund (UNFPA), the World Bank and the United Nations Population Division.
In Latin America and the Caribbean, maternal mortality declined an average 40% between 1990 and 2013, less than the global average and short of the 75% MDG target for 2015. However, the region's overall maternal mortality ratio (MMR) of 85 deaths per 100,000 live births is considered "low" (<100) among developing regions. "We have seen progress in saving mothers' lives in the Americas, and we welcome that," said Suzanne Serruya, Director of the Latin American Center for Perinatology/Women's and Reproductive Health (CLAP), a Pan American Health Organization (PAHO) technical center. "But the fact that more than 9,000 women lost their lives from maternal causes last year is unacceptable and means we have a major challenge to reduce those numbers." Globally, maternal deaths have declined 45% since 1990. An estimated 289,000 women died worldwide in 2013 due to complications in pregnancy and childbirth, down from 523,000 in 1990. Another WHO study, published in The Lancet Global Health, casts light on why these women are dying. "Global causes of maternal death: a WHO systematic analysis" finds that more than 1 in 4 maternal deaths are caused by pre-existing medical conditions such as diabetes, HIV, malaria and obesity, whose health impacts can all be aggravated by pregnancy. Trends in maternal mortality estimates shows that 11 countries that had high levels of maternal mortality in 1990 (Bhutan, Cambodia, Cabo Verde, Equatorial Guinea, Eritrea, Lao People's Democratic Republic, Maldives, Nepal, Romania, Rwanda, Timor-Leste) have already reached the MDG target of a 75% reduction in maternal mortality from the 1990 rate by 2015. Based on these latest trends however, many low- and middle-income countries—including countries in Latin America and the Caribbean—will not achieve the goal. Sub-Saharan Africa remains the riskiest region in the world for dying of complications in pregnancy and childbirth, with a lifetime maternal mortality risk of 1 in 38. In contrast, the lifetime risk of a woman dying from a maternal cause in Latin America was 1 in 570 and in the Caribbean, 1 in 220. Although these compare favorably with the average risk of 1 in 160 in all developing regions, they are considerably higher than the risk in the United States (1 in 1,800) and Canada (1 in 5,200). Despite advances in the last 20 years, there has been too little progress in preventing adolescent pregnancies, abortions, maternal deaths, sexually-transmitted infections and HIV, and there are significant gaps in availability, quality and access to comprehensive sexuality education and services for young people, especially in low-income countries. "More than 15 million girls aged 15 to 19 years give birth every year – one in five girls before they turn 18 – and many of these pregnancies result from non-consensual sex," said Kate Gilmore, Deputy Executive Director, UNFPA. "Relatively simple and well-known interventions, like midwifery services and gender-based violence prevention and response, can make a huge difference if scaled up and coupled with investments in innovations, especially in the area of contraceptives." New information on causes of death A related WHO study of causes of more than 60,000 maternal deaths in 115 countries shows that pre-existing medical conditions exacerbated by pregnancy (such as diabetes, malaria, HIV, obesity) caused 28% of the deaths. Other causes included: severe bleeding (mostly during and after childbirth) 27% pregnancy-induced high blood pressure 14% infections 11% obstructed labor and other direct causes 9% abortion complications 8% blood clots (embolism) 3% Strong health systems – with facilities that have adequate health workers and equipment and medicines – are key to delivering quality health care to save the lives of women and their newborn babies. "Together, the two reports highlight the need to invest in proven solutions, such as quality care for all women during pregnancy and childbirth, and particular care for pregnant women with existing medical conditions," said Flavia Bustreo, Assistant Director-General, Family, Women's and Children's Health, at WHO. Global highlights from Trends in maternal mortality estimates 1990 to 2013: Maternal mortality has declined: In 2013, the global maternal mortality ratio (MMR) was 210 maternal deaths per 100,000 live births, down from 380 maternal deaths per 100,000 live births in 1990 (a 45% reduction). Faster progress needed: The global reduction of MMR has accelerated, with a 3.5% annual decline from 2000-2013, as compared with 1.4% between 1990 and 2000. However, at current trends, most countries will not achieve the MDG target of a 75% reduction in MMR from 1990 to 2015. An average decline of 5.5% or more every year since 1990 is needed to meet the target on time. Ten countries carry most of the burden: Ten countries account for about 60% of global maternal deaths: India (50,000), Nigeria (40,000), Democratic Republic of the Congo (21,000), Ethiopia (13,000), Indonesia (8,800), Pakistan (7,900), United Republic of Tanzania (7,900), Kenya (6,300), China (5,900) and Uganda (5,900). Somalia and Chad have the highest risk: The highest lifetime risk of maternal death is in Somalia and Chad, where women face a 1 in 18 and 1 in 15 lifetime risk, respectively. Highlights on the Region of the Americas: Latin America and the Caribbean are among developing regions with relatively low maternal mortality, with MMR of 77 in 2013 in Latin America and 190 in the Caribbean. The other developing regions considered to have "low" maternal mortality are Eastern Asia (33), Caucasus and Central Asia (39), Northern Africa (69), and Western Asia (74). Maternal mortality declined 40% in Latin America between 1990 and 2013, compared with 36% in the Caribbean and 45% globally. Latin America and the Caribbean experienced the smallest annual decline in maternal mortality of any region between 1990 and 2013, at 1.1%. However, the region had a lower MMR to begin with compared with most regions that experienced faster declines. 11 countries in the Americas significantly reduced MMR (by 40% or more) between 1990 and 2013: Barbados (-56%), Bolivia (-61%), Brazil (-43%), the Dominican Republic (-57%), Ecuador (-44%), El Salvador (-39%), Guatemala (-49%), Haiti (-43%), Honduras (-60%), Nicaragua (-38%), and Peru (-64%). All of these countries started with relatively high MMR (>100 per 100,000).
Five countries of the Americas moved into the "low" maternal mortality category (MMR<100) between 1990 and 2013: Barbados (from 120 MMR to 52), Brazil (120 to 69), Ecuador (160 to 87), El Salvador (110 to 69), and Peru (250 to 89).
Colombia and Paraguay made only minimal progress, with reductions in MMR of 17% and 19%, respectively.
Belize, Chile, Mexico and Saint Lucia already had "low" maternal mortality but made significant reductions (-40% or better) between 1990 and 2013.
The five countries of the Americas with the lowest maternal mortality are Canada (11 per 100,000), Uruguay (14), Chile (22), the United States (28) and Bahamas (37). The five with the highest MMR are Haiti (380), Guyana (250), Bolivia (200), Guatemala (140) and Suriname (130).
Maternal mortality increased between 1990 and 2013 in six countries: Canada, Cuba, Guyana, Suriname, the United States and Venezuela. (However, levels in Canada, Cuba and the United States are considered low.)
In 2013, 2.8% of maternal deaths in the Caribbean were HIV-related and in Latin America, 1.2%. By comparison, 3.8% of maternal deaths in sub-Saharan Africa were HIV-related and 2.6% globally.
Follow The San Pedro Sun News on Twitter, become a fan on Facebook. Stay updated via RSS