Belizean repatriation: What is the process and where do they go?
Tuesday, June 23rd, 2020
Belizeans stranded abroad after the COVID-19 pandemic triggered the closing of Belize's borders have been returning home via the repatriation program led by the Ministry of Foreign Affairs, Health and National Security. The month of June has seen a number of repatriation flights on United Airlines, mainly for foreign nationals to leave Belize. Belizeans who have been allowed to return home are taking advantage of these flights and so far 154 have successfully repatriated. Upon arriving in country, they are swabbed and then transported to designated facilities/hotels where they must spend a mandatory 14-day quarantine at their own expense.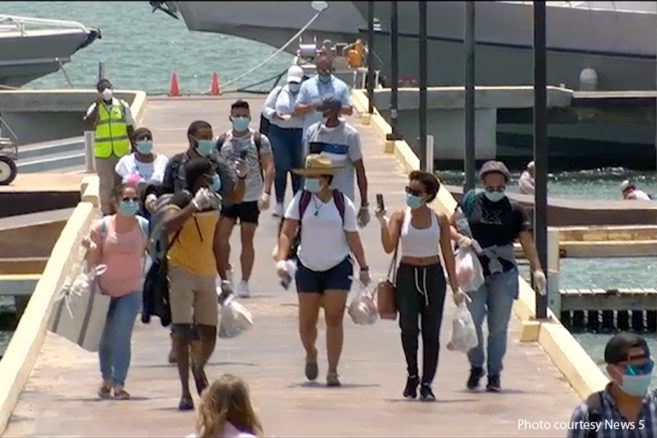 These hotels, mainly in Belize City, include Radisson Fort George Hotel and Marina and the Ramada Princess Hotel and Casino. Other places Belizeans/residents have or are serving quarantine include the Orange Walk and Corozal District and Ambergris Caye. On Ambergris Caye, the designated facility is a large resort south of San Pedro Town, which is currently housing nine persons. They are being monitored by members of the Belize Coast Guard.
Of the 154 repatriated so far, some have arrived via cruise ships, where they had been employed. However, the majority arrived via air and the largest group came to the country on Friday, June 19th on United Airline's third repatriation flight for the month. The flight brought in 45 passengers of which the majority were Belizeans, along with some British soldiers and reportedly a diplomat.
Director of Health Services in the Ministry of Health, Dr. Marvin Manzanero explained the safety protocols when the group arrived at the Philip Goldson International Airport. "We are swabbing everybody upon arrival," said Manzanero." The samples are taken throughout the day, we are not going to process them until Tuesday, that's a control." The group of passengers were then taken to the Ramada Princess Hotel for their mandatory quarantine.
Over the past weeks, some of these repatriates have tested positive for COVID-19, but according to Manzanero the risk for an increase in cases is still minimal. "Once we go through our repatriation process that allows you to go through the adequate mechanisms that has been established, following the new protocols, I don't think that should be a concern," Manzanero said.
Repatriation Process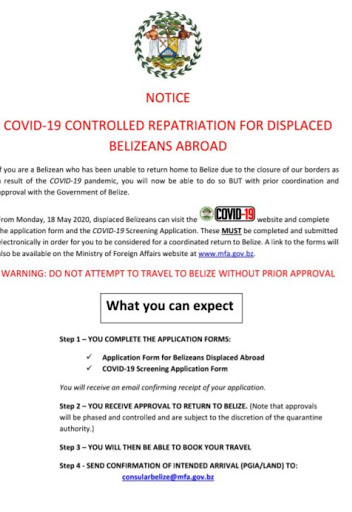 The repatriation process began on May 18th when the online application to do so became available. Any Belizean or permanent resident can start planning their return home after filling out an online application found on the website www.covid19.bz. Once the online application has been completed and submitted, its approval will be deemed appropriate after reviewed by the Ministry of Health, Foreign Affairs and National Security. No one should attempt traveling to Belize without prior approval.
According to the Chief Executive Officer in the Ministry of Foreign Affairs, Lou-Anne Burns Martinez, the online application process is called a controlled return in order to ensure that it is done in a sage manner that raises the least possible health risk for those in Belize.
Some of the aspects the screening process of the applications includes looking at those persons in most distress, economic and health issues. Also at the location of the individual(s), and where they have been in the last 21 days.
As of June 19, 2020, a total of 806 applications have been submitted online for repatriation. Of these, 515 have been approved, with 318 approval emails sent out. However, only 154 have been able to make their way back to Belize as each repatriate must do so on their own and foot the additional expense at a designated quarantine before they can go home.
Follow The San Pedro Sun News on Twitter, become a fan on Facebook. Stay updated via RSS