State of Emergency declared on two villages in the Orange Walk District after an increase in COVID-19 cases
Saturday, July 11th, 2020
Following a surge in cases of COVID-19 in the villages of San Felipe and Blue Creek in the Orange Walk District, a State of Emergency was declared on Friday, July 10th. As a result, security forces are enforcing a strict measure that prohibits persons from going in or coming out of these villages.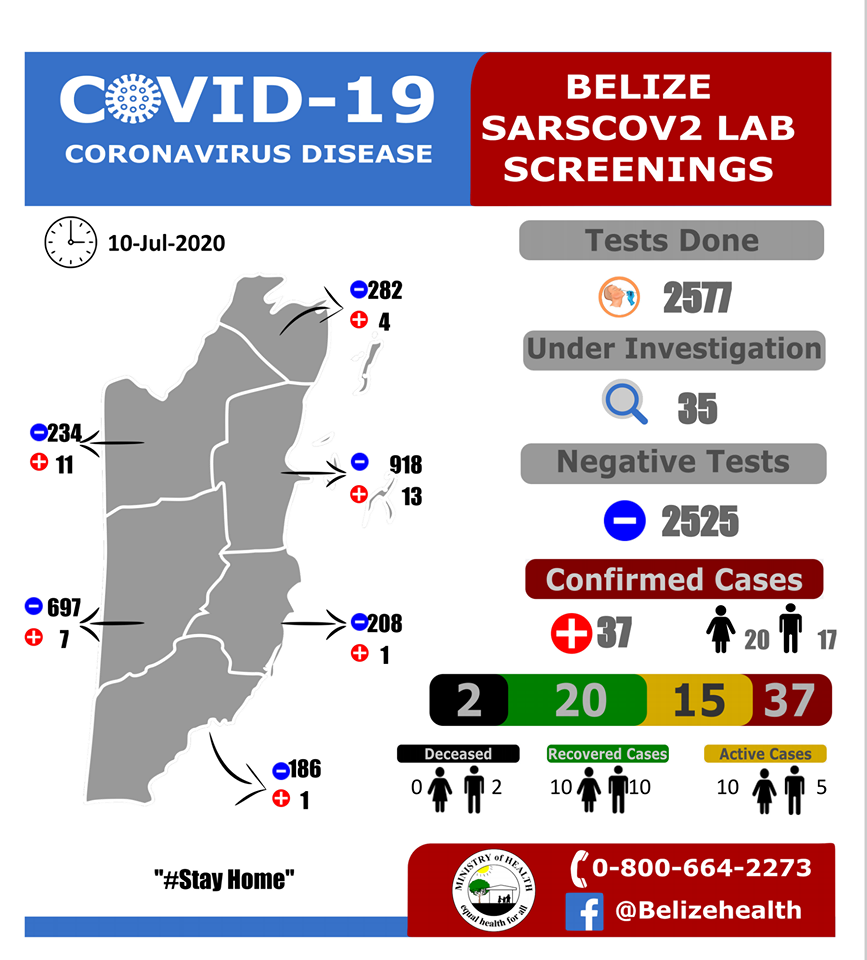 The increase in infections is believed to have been triggered after persons illegally crossed the border back and forth to Mexico, where cases have been increasing. Both of these villages are near the Mexican border, which is an area notorious for the contrabanding of goods.
The Office of the Director of Health Services made a plea on their social media account (Facebook) on Friday, July 10th. "Please, we all need to continue to remain safe, avoid crowded areas, practice social distancing, wear a mask and report any illegal crossings that you know.
…Our enhanced surveillance and now routine laboratory testing for SARS-CoV2 has identified another 4 cases as positive for SARS-CoV2. These 4 cases are related to the previously identified 3 cases yesterday and all 7 members of this family remain at the quarantine center in Orange Walk. One person displayed minor signs and symptoms and was seen at the hospital yesterday but has not warranted in-hospital treatment.
All 7 cases were identified as persons who had been crossing the border into Mexico illegally and the contact tracing/mapping exercise for all these cases is currently ongoing. Today's initial exercise has identified further potential cases in the community of Blue Creek and that exercise will continue into this weekend given the identification of this particular cluster.
This identification of cases in persons who have been crossing the border illegally underscores the importance and relevance of 'ALL OF COMMUNITY' approach in any successful COVID-19 intervention. We…have a total of 37 cases with 15 active cases, 9 of them being in Orange Walk."
Commissioner of Police, Chester William posted on his Facebook account that there is a patrol presence within the villages to ensure there is compliance with the regulations. He called out those that continue to enter illegally through different areas along the border. "Our security forces will remain active along our borders to prevent these activities, but you all would appreciate that the amount of blind spots are too much for us to monitor and as such while we have and will continue to apprehend the majority of these border jumpers, some will make their way in," said Williams.
Williams is asking the general public that anytime they know of a border jumper in their area to notify the nearest police station or the Ministry of Health (MOH) in order for appropriate action to be taken.
MOH officers can be reached at 0-800-MOH-CARE (Kindly note that the toll-free number is active from 8:00 a.m. to 5:00 p.m.)
Follow The San Pedro Sun News on Twitter, become a fan on Facebook. Stay updated via RSS