Ambergris Caye down to 34 active COVID-19 cases; residents to remain vigilant with safety protocols
Monday, November 2nd, 2020
San Pedro Town, Ambergris Caye has done well in the ongoing battle against COVID-19, especially after the lockdown in August when the island was the epicenter for the deadly disease. According to reports from island health authorities, San Pedro has 34 active cases, after registering 334 infections, 300 successful recoveries, and two deaths associated with the virus.
Although cases seem to be decreasing, islanders are warned that is no time to bring down one's guard, as single cases continue to be reported almost daily.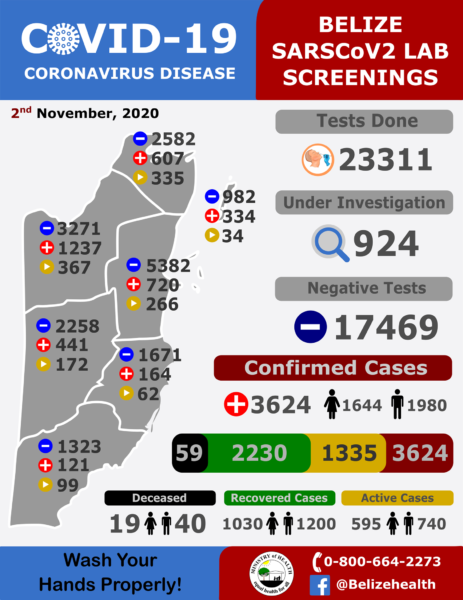 San Pedranos are encouraged to continue following the health safety measures: wearing masks, proper handwashing, and practicing social distancing. Mass gatherings are highly discouraged, as a spike in COVID-19 cases could quickly plunge the island into another lockdown. Many businesses on the island struggling to stay afloat tell The San Pedro Sun that they could not survive another lockdown. Thus, they are also asking everyone to be responsible and follow the government's safety measures.
Many stakeholders in the business sector have been concerned about monitoring persons traveling to the island from the mainland. The situation seems to be monitored by health authorities on the island, who confirmed that the people's temperature is recorded and a manifest is forwarded to them with such information.
Procedures in getting a PCR test for those traveling
Anyone traveling out of the country for non-essential travel will not be tested for such purpose unless approved by the Ministry of Health (MOH) and will be charged $100 BZ. However, that service will be available free of charge to those traveling for medical reasons.
For medical purposes, a copy of the passport bio page and medical necessity evidence should be emailed to [email protected], [email protected], and copied to [email protected]. The message should also indicate if the parties will be leaving via the Philip Goldson International Airport or if they need to exit the country via one of the land entry points. Those traveling for non-essential reasons (i.e., vacation or work) and in need of a PCR test should write to [email protected] with the following information: Address, Contact Number, and a copy of social security card. Applicants will be notified via email if their petition is approved.
Island residents are reminded that if they experience any symptoms, such as flu-related fever, loss of smell and/or taste, to visit the Mar del Tumbo clinic for testing. The clinic opens Monday to Friday from 8AM to 4PM and for emergencies, call phone number 672-0911.
COVID-19 cases continue to be reported daily by MOH. There are currently 1,335 active cases countrywide, of which 2,230 have recovered, and 59 have died. MOH is following closely an increase of cases across the country, particularly in the northern region. The health authorities are closely monitoring a recent outbreak among three active clusters at the banana farms in southern Belize.
Follow The San Pedro Sun News on Twitter, become a fan on Facebook. Stay updated via RSS