Police Report
Wednesday, October 12th, 2011
The following information was provided by the San Pedro Police Department. Queries or complaints may be directed to the San Pedro Police Department.
Theft
Wayne Alfaro, 33 years Belizean Constructor of San Pablo Area reported that on the 28th of September while at his residence a male person called him and informed him that one of his workers named Jose Zepeda sold him a drill Makita brand black and grey color for $300Bz currency. As a result Mr. Alfaro went to his store room and noticed that his black and blue Makita drill valued at $700Bz currency and one green Makita jackhammer valued at $1650Bz currency were missing. Jose Zepeda has been working with Mr. Alfaro for the past 4 months. As a result, statement was recorded, Jose Zepeda 27 years of age Honduran national, construction worker of San Pedrito Area was arrested and charged for the crime of Theft. One Makita brand drill valued at $700Bz and one Makita jackhammer valued at $1650Bz were recovered.
Kelly Brakeman, Belizean mechanic of DFC Area reported to Police that on the 1st of October at about 8pm while driving his motorcycle by the corner of a corner store, in the San Pablo Area the chain of his motorcycle was damaged and the wheels jammed. As a result he left his motorcycle parked on the street side in the same area. On Sunday the 2nd of October he received a call from a female who inquired whether he had been in an accident with his motorcycle. He informed her that he had not. The female informed him that she had seen his motorcycle on the ground missing some parts.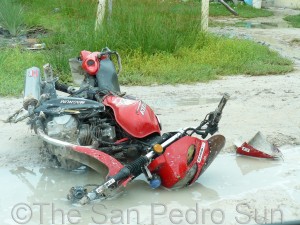 The complainant visited the area where he noticed that the front and rear wheels of his motorcycle had been removed – valued at Bz$500.00. A statement was recorded. Motorcycle was photographed. Matter remains under investigation.
Follow The San Pedro Sun News on Twitter, become a fan on Facebook. Stay updated via RSS