SP BTIA welcomes new Officer in Charge of the Coastal Executive Unit Reymundo Reyes
Friday, July 27th, 2018
As early as April 2018, members from the San Pedro chapter of the Belize Tourism Industry Association (SP BTIA) along with stakeholders have met with members from the Ministry of National Security and High Command in an effort to improve safety measures on Ambergris Caye while ensuring the quality of life for residents and protecting the tourism product on the island. Positive results have come from discussions with the Minister of National Security Hon. John Saldivar, CEO of the Ministry of National Security George Lovell, Commissioner of Police Allen Whylie, Deputy Commissioner Chester Williams, past Officer in Charge of Coastal Executive Unit Superintendent Henry Jemmott, representatives from the Belize Coast Guard, the Belize Defence Force, Mayor Daniel Guerrero and members of the San Pedro Town Council.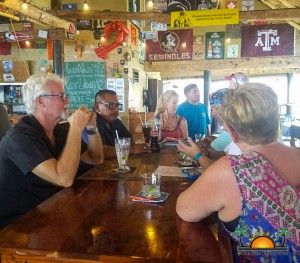 To maintain this dialogue, and confirm their commitment to working with local law enforcement, SP BTIA Chairwoman Tamara Sniffin, Membership Chair Jacqueline Feldman, Special Constable Liaison Scott Harnish, North Ambergris Caye Neighborhood Watch President Rob Eykelbeysh and other individuals welcomed the new Officer in Charge of the Coastal Executive Unit Reymundo Reyes at a lunch meeting on Saturday, July 21st at the Palapa Bar. OC Reyes, who has more than 21 years of experience in the police department, was accompanied by PC Campos.
The informal meeting was an opportunity to get to know each other and inform the new OC of progress and goals the SP BTIA had discussed in previous meetings with High Command and OC Jemmott. The Officer in Charge of the Coastal Executive Unit Reymundo Reyes was forthcoming in his commitment to making a difference on Ambergris Caye and discussed plans for monitoring local waters once the police boat is repaired, coordinating more foot patrols and developing new strategies for responding to criminal activities on the island. The SP BTIA pledged their support and informed that plans were underway for recruiting Special Constables, establishing more neighborhood watch groups and improving housing accommodations for police officers on the island.
"It was a pleasure to meet OC Reyes, and we are encouraged by his 'no-nonsense' approach to law enforcement. He laid out his plans for improving security and policing on the island, and we are here to assist and support in any way possible. As a community, we must work with our police department to help make a difference, if we want change, we must be part of the solution," commented SP BTIA Chairwoman Sniffin.
SP BTIA will be holding their monthly meeting on Tuesday, July 31st at 7PM at El Divino Restaurant and those who are interested in joining this active organization are invited to attend. For more information about the SP BTIA or membership, please contact Sniffin at 626-6802 or visit the www.btia.org
Follow The San Pedro Sun News on Twitter, become a fan on Facebook. Stay updated via RSS