January 20th: Deadline for Registering to Vote
Thursday, January 12th, 2012
With municipal elections just seven weeks away, activities at the Election and Boundaries Office have been heightening. The political organs have been on the ground searching for unregistered Belizeans and legible Commonwealth nationals meeting the registration requirements to have them register to vote for the upcoming municipal elections scheduled for March 7, 2012. To accommodate the high number of new registrations at the different offices countrywide, the Election and Boundaries Department has extended the deadline for registration.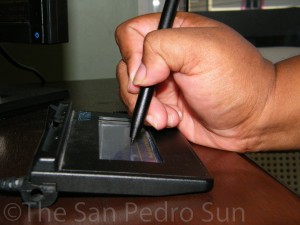 In a public notice, the Election and Boundaries Department informed that the cutoff date for new registered voters is January 20th. In a normal monthly cycle the cutoff date is the 10th day of every month. When the 10th day falls on a weekend, the last work day before the 10th day of the month becomes the cutoff date.
In a normal year, deadlines for the monthly cycle at the Election and Boundaries Department are taken for granted by political organs. But in an election year where the stakes are high, the number of new registered voters plays a crucial role. And so does the deadlines for the Elections and Boundaries Office that has to expeditiously investigate every new registration, a period that takes at least one month. After the names are vetted, the Elections and Boundaries office provides the political organs with a supplementary list for the last registration cycle which also gets attached to the Official registration list.
The only legal way that cutoff dates can be extended is via a Statutory Instrument. With SI 17/2012 being signed, January 20th, 2012 becomes the last day for legible Belizean Citizen or Commonwealth residents meeting the right criteria to register to vote in the March 2012 Town Council election. In addition, the Election and Boundaries Offices country wide will be open on Saturday, January 14th, 2012 as per normal working days.
Follow The San Pedro Sun News on Twitter, become a fan on Facebook. Stay updated via RSS