Independent BRS Candidates Nominated
Friday, February 17th, 2012
Two candidates were officially nominated this afternoon. Independent candidate William "Mike" Campbell and Vision Inspired by the People Robert "Bobby" Lopez will officially be on the ballot come March 7th.
First to make it to the Town Council's office was Campbell. Despite delays which included an issue with his dual nationality, Campbell went through the necessary process and was nominated. Campbell was nominated by Fitzgerald Brown, Steven Bowen, Hector Trejo, Orlando Guerrero, Patrick Stiley and Allan Halliday. Campbell, who only showed up with his six-person entourage stated, "My supporters are afraid of coming out while some are working." Campbell said that he remains focused and believes that he will be victorious on Election's Day.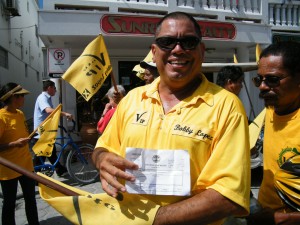 Shortly after 1:00PM, VIP's Lopez showed up with some supporters. Blowing horns and chanting for Lopez, the crowd paraded from through the principal streets of San Pedro. Lopez was nominated by Cesar Rivero, Carolina Kumul, Bernabe Badillo, Hilberto Sanchez, Stephen Manuel and Virginio Henkis. Lopez said that despite entering the race late, by the time Election Day rolls around, he will have reached out to most, if not all, his electorates in BRS. "I am sure that the people of Belize Rural South are smart. There is now a choice and I am sure that I will win after all the ballots are counted," said Lopez.
Photo Gallery
Follow The San Pedro Sun News on Twitter, become a fan on Facebook. Stay updated via RSS